Whole Grains – My new eBook
For a limited time only, I'm giving away Whole Grains – my brand new e-cookbook about whole grains and the Nordic cuisine. Sign up now for my free weekly newsletter with Nordic healthy recipes and claim your free copy of Whole Grains.
My eBook, recipes and newsletters are completely free of charge and you may unsubscribe any time you please. Don't worry; I hate spam as much as you do. I will only send you relevant information and recipes whenever I have something good to share.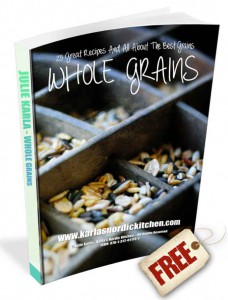 About Whole Grains

Discover the secrets behind the Scandinavian way of cooking with whole grains. For years, Scandinavians have perfected mouth watering and healthy meals that will leave you satisfied and full without making you feel guilty about your choices.
Inside the pages of this Nordic cookbook, the author and 2012 Danish National Home Cooking Champion, Julie Karla shares 25 of her favorite whole grain recipes. Using her expertise and local knowledge, Julie Karla has compiled real world insight into why you should incorporate whole grains into your meal planning and how to do so with ease.
Whole Grains features a wealth of information and previously unreleased recipes from the Nordic Cuisine so that you can discover what many fans of her website Karla's Nordic Kitchen have already learned. This book is the perfect platform if you want to introduce your family and friends to a healthier Nordic lifestyle.
The beautiful full color illustrations in this cookbook will inspire you. The easy-to-follow recipes will become longtime favorites that your family will enjoy for years to come and your body will thank you for providing ample nourishment that not only looks good, but also tastes good.