I love chia mousse for breakfast! This time I have made it with Danish blueberries. During summer you can find these gorgeous little berries in woods all over the Nordic countries. I have so many memories of me coming home with a basket full of blueberries, and feeling very full because of all the blueberries, I have been eating while collecting them. Besides from tasting absolutely amazing, blueberries are full of great antioxidants, and together with chia seeds this breakfast doesn't get any healthier.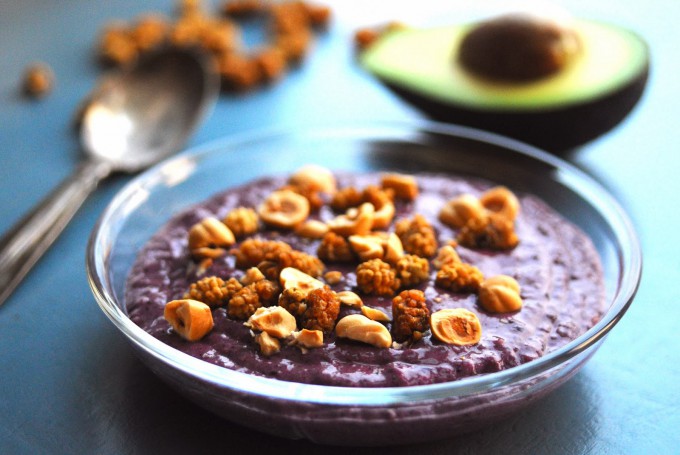 Blueberry Mousse with Chia Seeds, Banana & Avocado
Ingredients
2 heaping T chia seeds (available at health food stores and selected supermarkets)
1 ½ cup unsweetened almond milk (available at health food stores)
½ ripe avocado
3.5 oz. frozen banana slices (about 1 small banana)
¼ tsp. vanilla powder
2 tbsp. blueberries
Hazelnuts
Dried Mulberries
Instructions
Mix chia seeds with almond milk the night before and put it in the fridge overnight.
Next day add to mixture blueberries (I used frozen organic blueberries, which I had given a short boil and then cooled), frozen banana slices, avocado and vanilla powder. Garnish with hazelnuts and or dried mulberries. Yield 2 servings.
Related Nordic Recipes: