This is a super easy baked beetroot salad with lemon ricotta that you can make in no time and that tastes amazing. Plus the colors are just perfect. Love the purple color from the beets together with the green spinach and pistachios. It will look so good on a dinner table or as a light lunch, when you want something a little extra.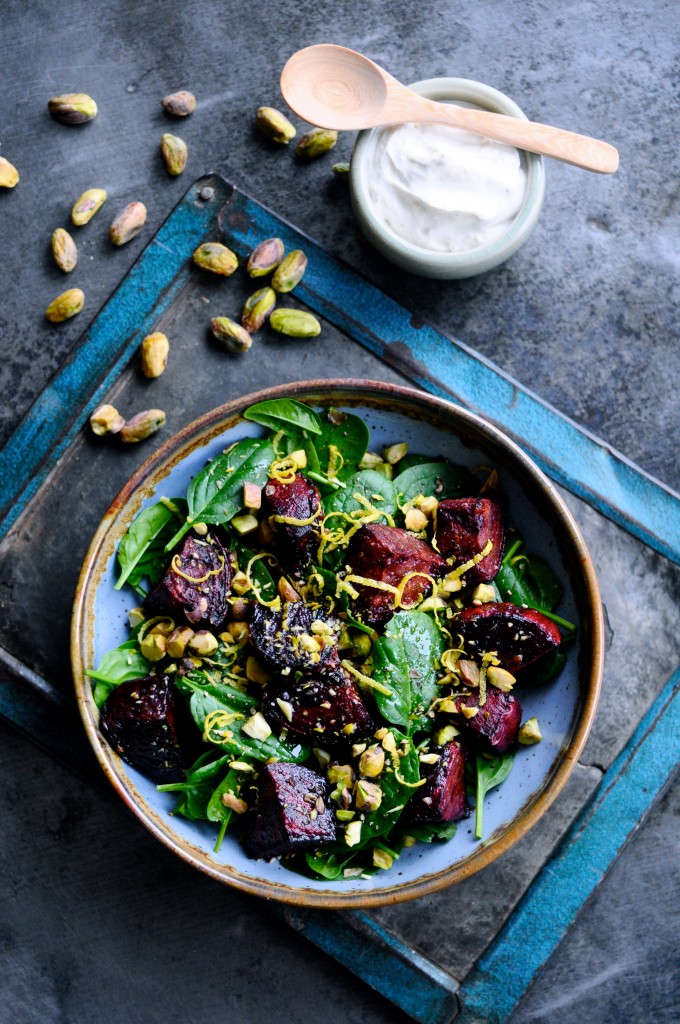 Baked beetroot salad with the most creamy lemon ricotta
For this beetroot salad I've made a lemony ricotta dip, which really just consists of ricotta, some lemon zest and juice, pepper and then, very important, some freshly ground nutmeg. And this tangy lemon ricotta is so good together with the baked beets that gets even sweeter and more delicious when they are baked in the oven.
Yay and finally this is a cheap salad to make. Organic beetroots at the moment costs literally nothing here in Denmark (we have a looot!) and if you have many of the other basic ingredients at home, you have a quick and cheap meal.Win!
For more beetroot salads, take a look at my salad category!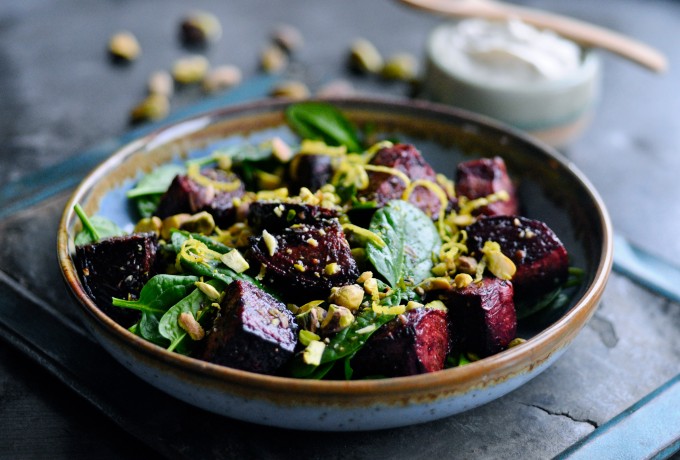 Baked beetroot salad with lemon ricotta
A lovely and beautiful baked beetroot salad that is sure to impress!
500 gr (17.6 oz) beetroot
60 gr (2.1 oz) baby spinach
salt
freshly ground pepper
olive oil
Lemon ricotta
125 gr (4.4 oz) ricotta cheese
zest from 1/2 organic lemon
1 tsp lemon juice
1 pinch of freshly grated nutmeg
20 gr (0.7 oz) unsalted pistachios
Peel the beetroots and cut them into medium sized cubes. Place beetroot on a baking sheet and drizzle with olive oil and sprinkle with salt and freshly ground pepper. Bake the beetroot at 225 degrees (440 f) for approx. 20 minutes.

Mix the ricotta with lemon zest and juice, nutmeg and freshly ground pepper.

Rinse the spinach and place it on two plates.

Place the baked beets on top and sprinkle with coarsely chopped pistachios.

Garnish with extra lemon zest, sprinkle with pepper and salt and drizzle with a good olive oil.

Serve the salad with the lemon ricotta.