The other day when I posted my recipe for organic roast pork, I promised to share with you my recipe for these baked plums with red onion, liquorice, lemon and acacia honey. Because it is simply THE best side dish for roast pork with crackling or just pork in general. If you haven't tried using liquorice in your cooking, I can seriously recommend it!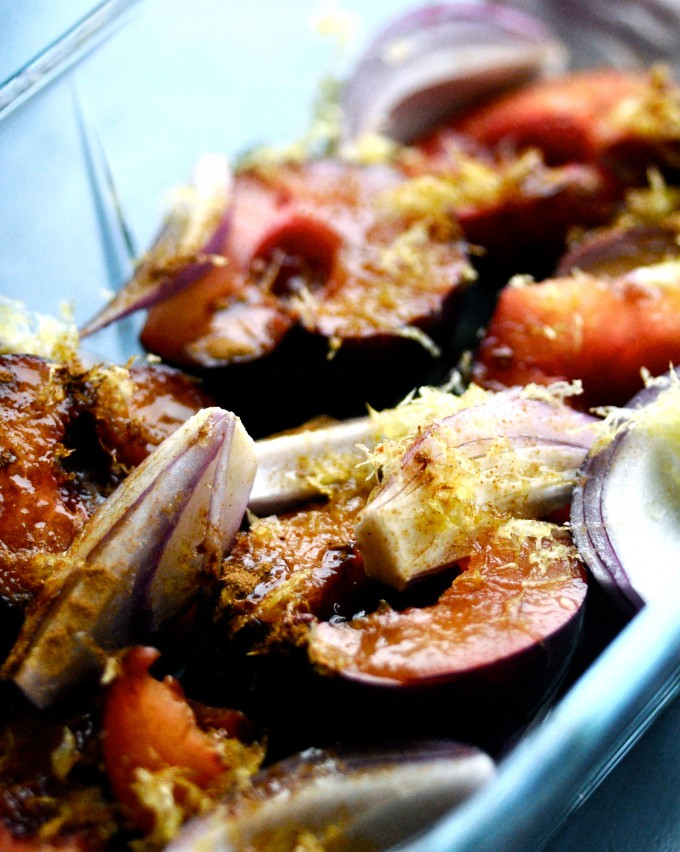 Baked plums with liquorice for christmas eve
The combination of especially lemon and liquorice is so so good and together with the sweet plums and the sweetness of the baked red onions it's a side dish that really hits the roof. I really love this and have decided to put it on the menu for this christmas eve.
My husband Mikkel and I are going to celebrate christmas together (for the first time actually!) in my hometown Aarhus with my parents and dinner is already settled and nothing has changed since I was a child. It's gonna be roast pork with crackling, fried sugary potatoes (yes you heard it right – potatoes fried with LOTS of sugar and butter), warm christmas-seasoned red cabbage and last but not at all the least G R A V Y. Can't wait! Good thing that christmas is right around the corner!
Baked Plums and Red Onion with Liquorice, Lemon & Acacia Honey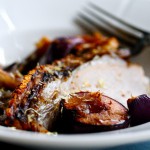 4 plums (halved)
2 small red onion (wedges)
1 tsp. liquorice powder
1 tbsp. acacia honey (also known as Locust Honey or American Acacia)
1 tbsp. lemon zest
Preheat oven to 320 °F
Put plums and red onion into an ovenproof dish. Layer in this order, first cover with the acacia, and then sprinkle liquorice powder and then sprinkle with lemon zest.
Bake in the oven until the plums are cooked and the onions a bit soft.
Serve with roast pork (see my recipe in link above).