Sponsored by Brox: Sometimes I get so excited when a recipe turns out just the way I hoped so or even better, as with this easy Shepherd's pie recipe made with the best beef broth ever.
Especially around this time of the year, where it's cold, grey and rainy outside, I've got a thing for comforting food that you can eat with a spoon. That being a warm bowl of soup or simply just a cup of bone broth or maybe some extra creamy mashed potatoes on top of the best hearty meat sauce simmered with red wine and herbs as in this recipe.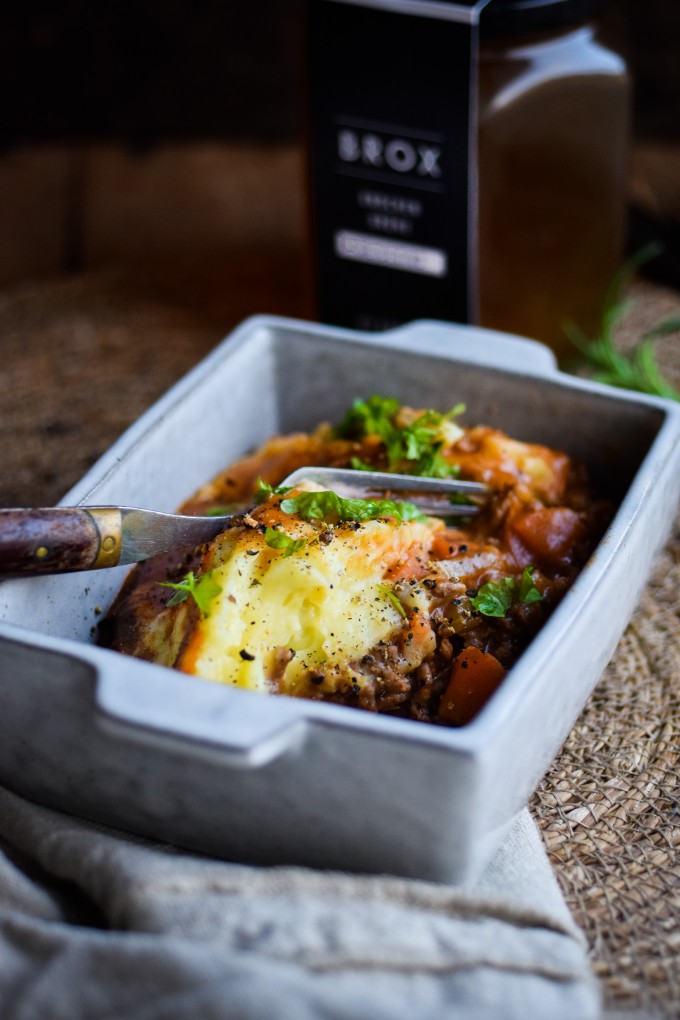 Easy Shepherd's pie recipe with Brox broth
The reason why I'm super excited about this recipe is due to the seriously addictive organic bone broth that I'm using for my sauce. I was contacted by the German company Brox and asked, If I would test their bone broth. And I'm glad I said yes, because it really adds that extra umami thing that we all want in our dishes, right?!
I've used beef broth for this easy shepherd's pie recipe and the thrill of using a broth made from cows that have lived a happy life is great. Would never settle with less. Actually Brox has also made a chicken broth with free range chicken and of couse I've made a recipe with that also, but that's another post! Let me first sum up some of the many, meany health benefits by adding bone broth to your diet.
Easy Shepherd's pie recipe
Here's the best and most easy Shepherd's pie recipe. Don't look any further!
1 kg (2.2 lb) potatoes
3 tbsp cream cheese ((full fat))
3 tbsp beef broth ((I used Brox))
salt to taste
The sauce
400 gr (14 oz) minced beef
2 banana shallots
2 cloves garlic
3 carrots
1 stalk celery
200 gr (7 oz) brown mushrooms
2 dl (0.8 cup) frozen peas
2 dried bay leaves ((remove before assembling the pie))
1 sprig fresh rosemary ((remove before assembling the pie))
1 sprig fresh thyme ((remove before assembling the pie))
3 dl (1.2 cup) beef broth
1/2 dl (0.2 cup) red wine
2 tsp tomato paste
2 tbsp flour
1 tbsp full fat creme fraiche ((Not a must, but if you have it in the fridge, add it!!!))
flat-leaf parsley for garnish
Start preparing the mashed potatoes. Peel the potatoes and boil them until fork tender.

Mash the potatoes with cream cheese and broth until you have some creamy mashed potato.

Finely chop the shallots and garlic and cut the celery and carrots into small bites. Slice the mushrooms and pour it all into a pan with olive oil. Also add the herbs (remove them later)

When the carrots are tender, add the minced beef. Fry until the meat is cooked.

Now add tomato paste and flour and stir well.

Add red wine and simmer for 2-3 minutes.

Add the beef broth and simmer for a few minutes. Finally add the peas and creme fraiche and remove all herbs.

If the mashed potatoes have become a little cold, stir in a little milk, so it's easier to stir around and it becomes silky smooth again.

Pour the meat sauce into an oven-proof pan or dish. Layer the mashed potato on top.

Bake your Shepherd's pie at 200 degrees (390 fF) for 15 minutes. Then grill for approx. 5 minutes so the surface gets beautifully golden.

Sprinkle with flat-leaf parsley and serve.
The health benefits of bone broth
Bone broth is rich in minerals that support the immune system and the collagen in the bones which the broth is made from has some really awesome benefits. When cooked for a long time the collagen turns into gelantin which has an anti-imflammatory effect. It keeps the joints and muscles healthy and also it boosts the skin, hair and nails and much more.
I could actually go on, but I think you got a pretty clear picture now that bone broth is healthy, right? Anyways, hope you'll try out my newest recipe. Cause' you can just never go wrong with a good ol' Shepherd's pie!
And by the way. You can buy this amazing bone broth on Amazon! Check it out here. Also, Brox told me that they'll soon enter the Scandinavian market. Total win!