In Sweden, waffles can be considered a national dessert. They even have a Waffle Day! In Denmark we also eat waffles, and in Norway as well. I especially like to make them for breakfast and typically eat them with Skyr (a high protein Icelandic yoghurt similar to Greek yogurt) and some jam made from fresh berries. If I make them for dessert, I do sometimes eat them with whipped cream and during summer with strawberries on top. This version is made with almond flour instead of flour and I have omitted the refined sugar, which makes these almond waffles a healthy choice.

Almond Waffles with Lemon & Chia Seeds
2 eggs
1 dl. (0.4 cup) milk
1/2 dl. (0.2 cup) unflavored yogurt
2 tbsp. agave syrup (found in health food stores)
50 gr (1.8 oz.) almond flour
1 tbsp. psyllium husk
1 pinch of pure vanilla powder
1 tsp. chia seeds
Zest of 1 lemon (finely grated)
Coconut oil for baking
Garnish Suggestions
coconut flakes
extra agave syrup
dried marigold
almond butter
Combine eggs, milk, sour milk and agave syrup and mix well.
Add the lemon zest, vanilla power, almond flour, psyllium husk fiber and chia seeds and mix well.
Grease waffle iron with coconut oil and bake the waffles until golden brown.
Serve the waffles with coconut flakes and extra agave syrup. Garnish with a little dried marigold. Yields 3 waffles.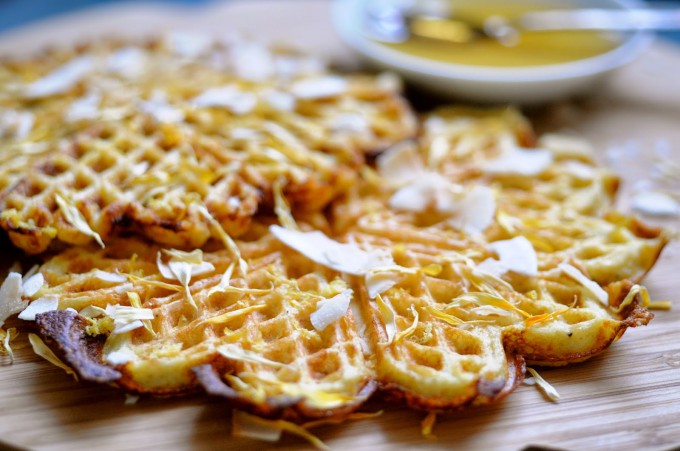 Almond Waffles with Lemon & Chia Seeds