This is a great healthy lasagna recipe made with cabbage sheets. I love to make well known, classic recipes even healthier. Like for example everyone's favorite dish, lasagna. In this healthy lasagna recipe, I have substituted the pasta with a very Nordic ingredient, cabbage. And it is actually surprisingly good!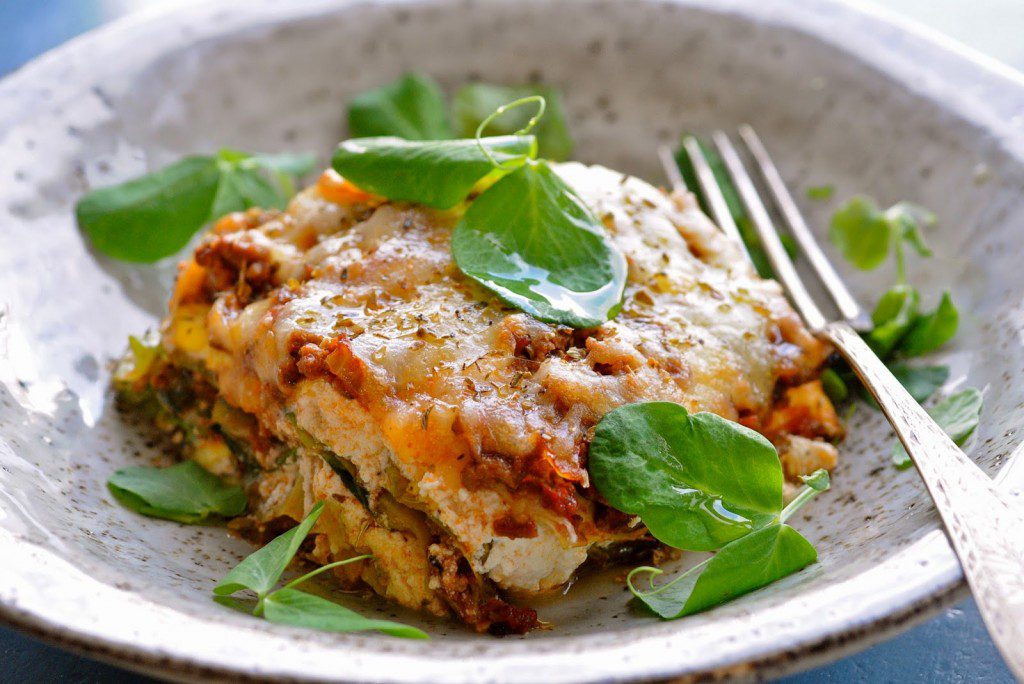 Healthy lasagna recipe with ricotta cheese
I use ricotta instead of bechamel sauce to make the lasagna more firm, because the cabbage will make the lasagna a bit more watery than a normal lasagna. This recipe is really something I can recommend trying out for yourself. You may end up using cabbage instead of pasta from now on. It's more healthy and I'm sure you will find that it's just as good or even better.

Lasagna with Ricotta Cheese and Cabbage Sheets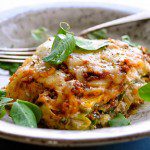 This is one of my favorite healthy lasagna recipes made with cabbage sheets instead of pasta.
400 gr. (14 oz) minced beef
1 onion
1 celery stalk
2 cloves garlic
1 can (240 gr) diced tomatoes
1 can (70 gr) tomato paste
0.4 cup water
1 tbsp oregano
1 tbsp thyme
1 tbsp balsamic vinegar
1 tbsp apple cider vinegar
1 tsp. sugar
1 tsp. salt
1/2 red chilli (finely chopped)
500 gr (17,5 oz) ricotta
Nutmeg
Black Pepper to taste
150 gr. (5 oz) grated mozzarella
1 cabbage
Preheat oven to 200 degrees (375 °F)

Pull the leaves off and cut off the thick stick of all the leaves (I almost cut a triangle at the bottom of each leaf) to get some fine, even and thin "lasagna sheets".

Boil them in boiling water and let them boil for a couple of minutes until they have become a bit softer in their consistency. Then pour over cold water and place them on a plate with kitchen roll so that excess water can be removed.

Put olive oil in a pan. Add the onion, celery and garlic (Hint, do not burn the garlic, it will add a very bitter taste to the dish) and sauté slowly until transparent in colour.

Add the minced beef and brown well. Add diced tomatoes, tomato concentrate and water. Add the dried spices, finely chopped chilli and let simmer for 5-10 minutes.

Season to taste with apple cider vinegar, balsamic vinegar, salt and sugar and simmer until cooked through.
Meanwhile mix the ricotta with fresh grated nutmeg and black pepper.

Layer the ingredients in this pattern. Layer the meat sauce in the bottom of an ovenproof dish. Add a layer of cabbage leaves. Add a layer of ricotta. Another layer of meat sauce, etc.. Continue the same procedure until you finish off with a layer of meat sauce.

Bake lasagna in the oven for approx. 35 minutes. After 20 minutes, remove the lasagna and sprinkle with grated mozarella cheese. Put the lasagna back in the oven and bake for approximately 15 minutes more.

Take lasagna out and let stand for approx. 10 minutes. Serve with a sprig of fresh oregano, pea sprouts and top it off with a few drops of good olive oil.