When you look into an average Danish child's lunch box, you will very often find a piece of rye bread with butter and a slice of a dried fruit log like this one. In Denmark, you can buy these fruit logs or bars in the supermarket and they come in many different variations with different kinds of dried fruit, but you can of course also make it yourself, as I have done.
I ate it A LOT, when I was a child and I still love it. I can't think of anything better than a slice of this date and coconut log on rye bread, crisp bread or just as it is. Sometimes, I also make it as small energy bites, which makes them perfect for a post-work out snack.
So, in Denmark it is actually a children's snack, but I know so many grown ups, who love it as well. Are you curious to know, what children in Denmark eat for lunch at school? I'll tell you. Rye bread! The schools in Denmark don't provide lunch for the students, so the parents will have to prepare a lunch bag for them every day. And what you will most often find in every lunch bag is rye bread. Parents make open faced sandwiches with different toppings. Most often, it is either with roughly chopped liver paté, sausage, egg or a slice of this dried fruit log.
If you want to make a great sweet snack for both children and adults, cut two slices and put a thick slice of banana in the middle. Maybe even add some peanut butter to make it extra tasty. It is SO good!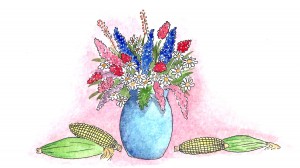 Dried fruit log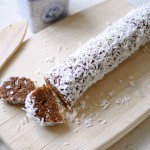 8.8 oz. dried dates
2 tbsp. coconut oil
1 tbsp. acacia honey or agave syrup
2.6 oz. almonds
2.6 oz. raisins
Desiccated coconut
Blend all ingredients together in a food processor until you have a fine paste. Divide the fruit dough in two and roll them into a log shape.
Once you have the two rolls, place on a surface covered with coconut and roll until completely covered.
Store logs in the fridge. You can keep them there for a long time. Cut off into slices and serve.