If you look into my kitchen cabinet, you will most likely find crackers of different kinds. My favorite ones are of course the home made ones like these spelt crackers with dates and almonds, but if I don't have time to make them myself (don't worry these are super easy to make), I have some favorite store bought varieties. All of them are made of whole grain flour and with no added sugar.
I snack a lot – as in all the time! And if I am on the run, I always make sure to bring along a little lunch bag with some wholemeal crackers, dried fruit and nuts.  I hate being hungry, so I always make sure to have snacks with me. My favorite snack is crackers with a layer of almond butter and some roughly chopped dark chocolate with minimum 70 percent cocoa. It's the best! And then I always have a small bag of nuts with me. Almonds, hazelnuts, walnuts and pistachios are my favorites. Nuts are the best, when I feel hungry in between meals and need a fast and healthy snack.
These spelt crackers go perfect with cheese and they will look really good on a cheese board. I have added some dates and almonds to the dough, but you can add any kind of dried fruit and nuts you may like. Try for example dried apricots and unsalted pistachios or how about raisins and walnuts?

Spelt Crackers with Dates & Almonds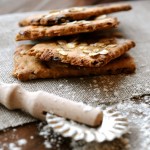 7 oz. wheat flour
7 oz. whole grain spelt flour
1 tsp. vanilla powder or seeds from 1 vanilla pod
1 tsp. cinnamon
1 tsp. baking powder
1 pinch salt
1 egg (large)
0.6 cup milk
1.8 oz. butter (grated cold)
2.6 oz. dates (chopped)
1.8 oz. almonds (chopped)
Milk for brushing
Oatmeal for garnish
Preheat oven to 325 °F
Mix the dry ingredients together and add the chopped dates and almonds. Add eggs, milk and grate cold butter in. Knead it all together with your hand, well enough to form a smooth dough. Transfer the dough to a floured surface. Divide the dough in half and roll each half out thinly with a rolling pin. Cut into square blocks. If you have a favourite cut out, feel free to use it, so you get a nice pattern.
Put the crackers on a baking sheet lined with parchment paper or wax paper and brush them with milk. Sprinkle with oatmeal.
Bake the crackers for approx. 20 minutes until the edges are golden brown. Yield 35-40 crackers.