This is truly a Summer salad and if you have the same sunny weather, where you are, as we have here in Denmark right now, I definitely recommend you make this yummy green salad with blueberries sooooon! It's really, really nice and keeps you full due to the whole Kamut berries, which is an ancient grain that tastes amazing and gives you a lot of good fibres. And your stomach likes that!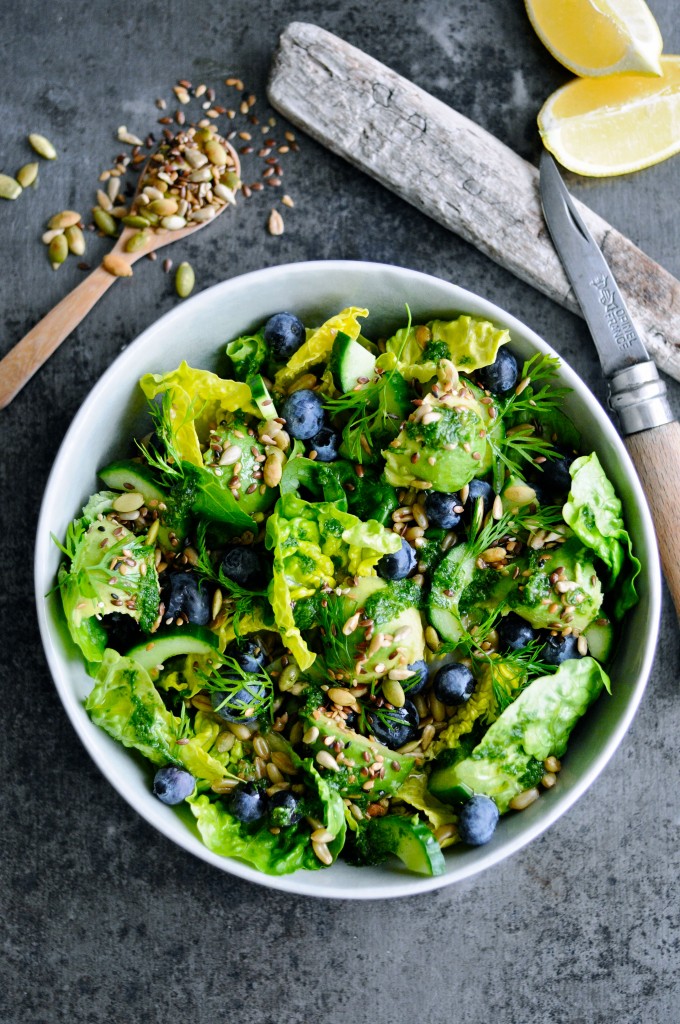 Love green salad with blueberries and…
Any other kind of berries. Just in general, I love to add berries or any other kind of fruit to my salads. It brings that lovely sweetness that works so well in a salat where there often also are salty ingredients or ingredients with a lot of fat for example like the dill oil or avocado.
If you don't have blueberries right at hand then forget about running to the food store, just use whatever you have at home. That being strawberries, apples, pears or whatever. The only thing that matter is the sweetness of the fruit.
However, that said, I do love the colour of the dark blue blueberries. Beautiful, right?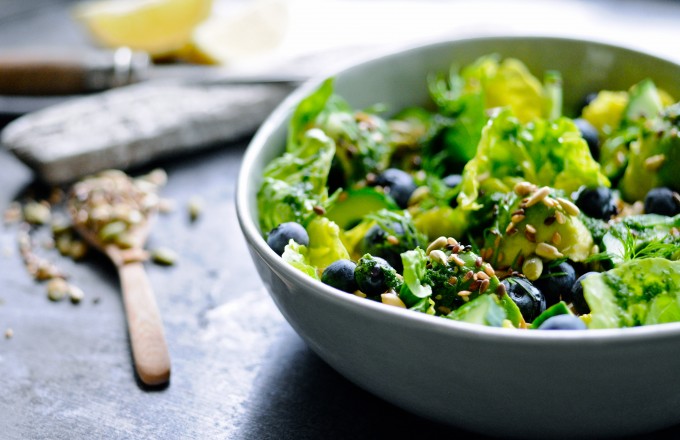 Green Salad with Blueberries, Kamut Berries and Dill Oil
Lovely green salad with blueberries and kamut. This salad is perfect for the summer barbecues!
150 gr (5 oz) boiled whole Kamut berries ((or wheat berries or pearl barley))
100 gr (3.5 oz) blueberries
2 small cos lettuce
1/2 cucumber
1 avocado
lightly roasted sunflower seeds, pumpkin seeds, flax and sesame seeds
Dill Oil
1/2 dl (0.2 cup) olive oil of high quality
10 gr (0.3 oz) fresh dill ((about 2 handfuls with stalks))
lemon juice
fresh dill for garnish
Start with the dill oil. Put dill and olive oil into a blender or food processor and blend until the dill is finely chopped.

Rinse the cos lettuce and break it into small pieces. Mix the salad with boiled kamut berries, blueberries, avocado and slices of cucumber.

First add flax and sesame seeds to a dry pan and take them off the heat, just as they start to pop. Then add the sunflower and pumpkin seeds on the same pan until cook until they start taking colour. Let them cool and mix them with the flax and sesame seeds.

Sprinkle well with dill oil over the salad and squeeze some lemon juice over. Finish with a little salt and freshly ground pepper and extra fresh dill.