A healthy chocolate cake recipe with no refined sugar or flour but that still has that intense brownie like taste and texture! Sounds good right? This recipe is one of my favorite cake recipes and the fact that it only consists of natural ingredients just makes it even better.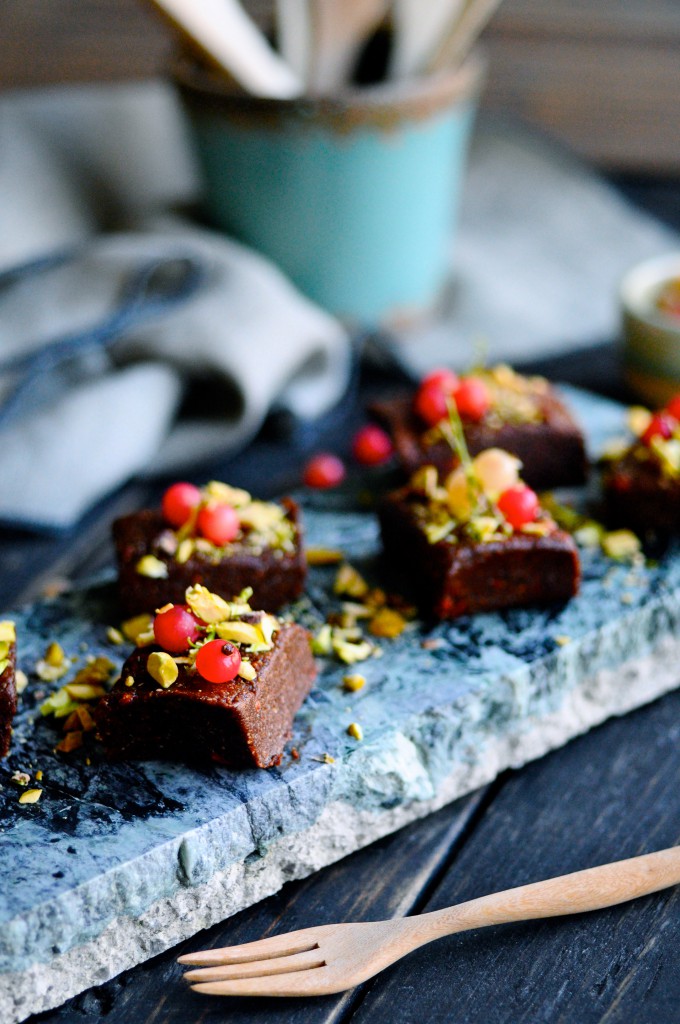 Healthy Chocolate Cake Recipe with the topping of your choice
If we leave out the topping for a moment, you really just need four basic ingredients to get started on this healthy chocolate cake recipe. Medjool dates, cashews, cocoa and Goji berries. It's as simple as that. And then you can choose whichever kind of topping you may like. For this one I've used unsalted pistachios and red currants but just imagine some dark, dark melted chocolate on top of these intense little bites. Maybe even a sprinkle of toasted coconut would give it that extra yumminess!
If you go with another topping, feel free to leave a comment below so we all can be inspired!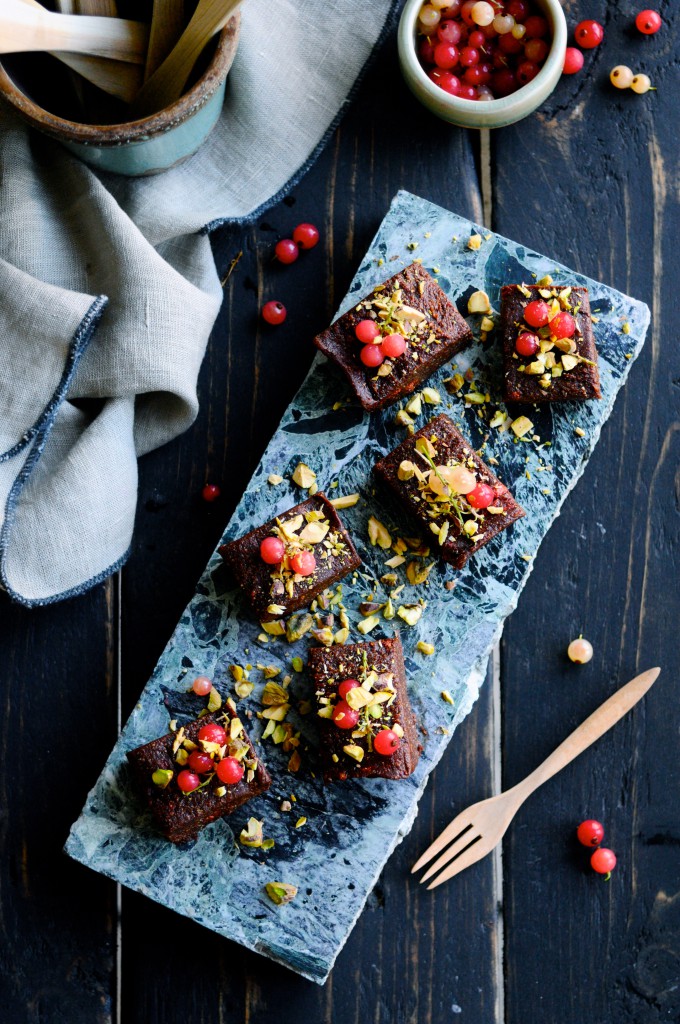 Healthy Chocolate Cake Recipe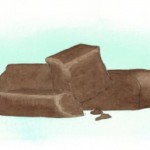 Healthy Chocolate Cake Recipe – no refined sugar or flour!
7 oz (200 gr.) Medjool dates
1.8 oz (50 gr. ) Unsalted Cashew nuts
2 tbsp. Goji berries
4 tbsp. raw cocoa
Unsalted pistachios
Optional: Melted dark chocolate (70 % cocoa)
Soak the Goji berries in water for a few minutes.
Meanwhile put the medjool dates, cashew nuts and cocoa in a food processor or blender and blend until you have a smooth coherent texture.
Add the soaked Goji berries and blend for just a few seconds. Don't blend for too long, as there has to be small pieces of Goji berries left in the batter.
Cover a small dish with plastic wrap and spread out the chocolate dough. Put the chocolate cake in the fridge for half an hour until it's set.
Place the chocolate cake on a cutting board, remove the plastic wrap and cut the chocolate cake into small pieces with a very sharp knife.
Garnish the chocolate cake with chopped unsalted pistachios or pour over some melted dark, dark chocolate . It also tastes fantastic!