This mackerel rillettes is one of my favorite appetizers. It's super easy to make and only consists of a few ingredients. I often make it for my guests and serve it on some small rye bread crisps. Now, that I mention it, have you heard about rye bread crisps before? It's seriously the best! It's just thinly sliced pieces of rye bread that are brushed with olive oil and drizzled with sea salt and then baked in the oven until crispy. A healthier version of your traditional crisps, since these are loaded with grains, which will also keep you from emptying the basket, because you'll just get too full. On these pictures though, I have used some traditional crisp bread.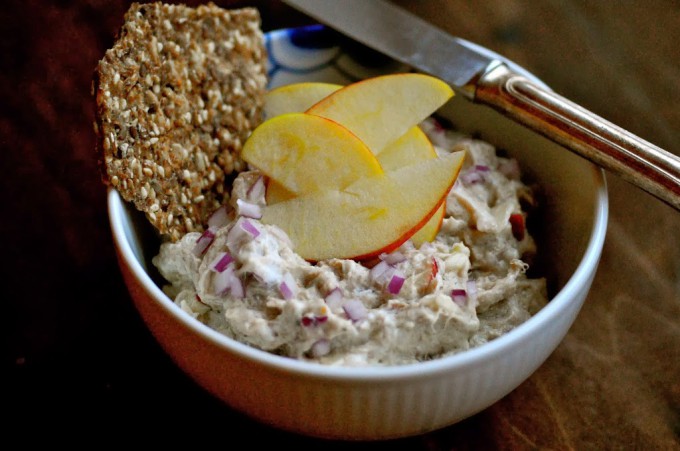 Besides from tasting great this mackerel rillettes is also full of good stuff! For one thing it contains a lot of unsaturated fat and is especially a good source of Omega-3 fatty acids. And also it fits very well into a high-protein/low-carb diet, which I follow. The red onion gives the rillettes some extra flavor and the apple some juicy sweetness. A perfect match with the fatty mackerel.

Mackerel Rillettes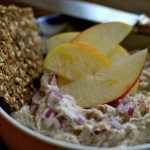 5.3 oz. Smoked Mackerel
1 tbsp. mayonnaise
2 tbsp.skyr or any other kind of non-fat yoghurt
1 tsp. apple cider vinegar
½ red apple (chopped coarsely)
¼ red onion (chopped coarsely)
salt & pepper
crispbread or rye bread chips
fresh horseradish
Remove the skin from the mackerel.
Puree the meat lightly with a fork and add skyr, mayonnaise and apple cider vinegar and mix well. Season with salt and pepper to taste. Fold in the apple pieces and red onion gently.
Serve with crackers or bread chips.
Garnish the smoked mackerel salad with sliced apple and fresh horseradish as an option.