These coconut macaroons are super easy to make and tastes so good that you won't believe they are also healthy. There is no refined sugar or flour in them only natural sugar from the ripe bananas and the extra dark chocolate. I sometimes use a sugar free dark chocolate that is sweetened with stevia, if I want my macaroons completely sugar free.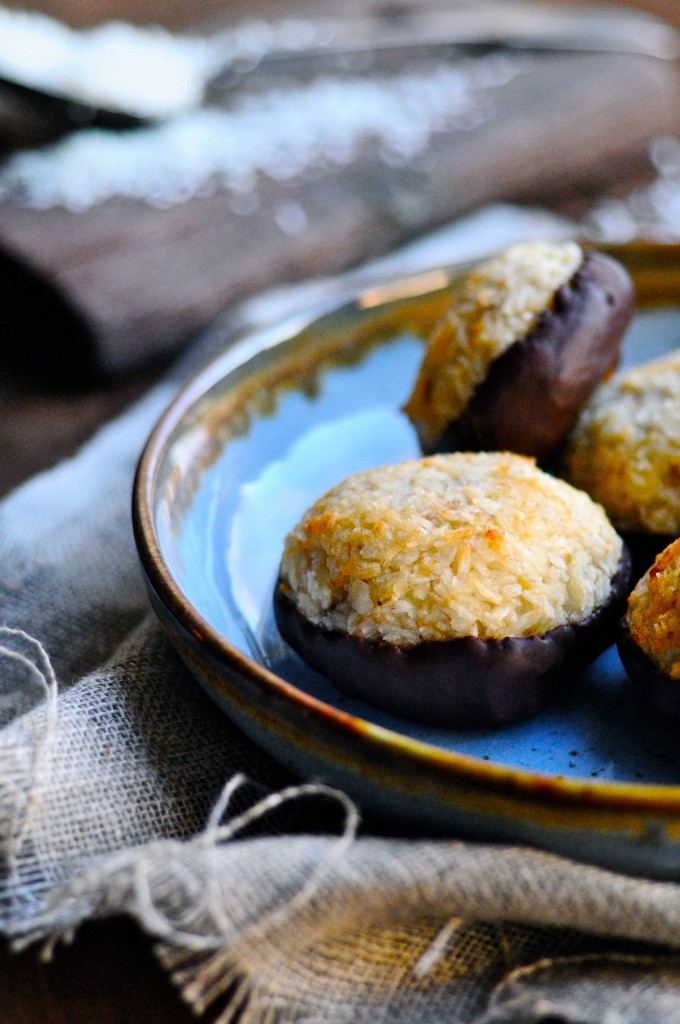 Coconut macaroons is a very popular cake in Denmark. You can probably buy them in every bakery  in the country and also the supermarkets offer different varieties. It was my favorite cookie, when I was a child and I remember that my dad would sometimes stop by the local bakery on our way to school to buy me a little bag of coconut macaroons that I could bring with me and enjoy after my lunch. Without my mother's knowledge that is!
Healthy Coconut Macaroons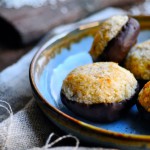 3.5 oz. peeled ripe banana (1 medium)
1 egg white
2.6 oz. coconut
0.9 oz. dark chocolate (70-80% cacao)
Preheat oven to 390 °F
Mash the bananas and stir in coconut and egg whites Hint: reserve the egg yolks for another recipe by putting them into a bowl covering them with plastic wrap. Add a couple of eggs and make an omelette in the morning. Form small coconut balls with a spoon and place on a baking sheet. Bake for approx. 15-20 minutes. Allow to cool and dip them in melted dark chocolate Hint: melt chocolate over a double boiler to avoid it seizing or clumping on you.
Tip! Try adding a little pure vanilla powder or a little cinnamon to the dough for added colour. Yield 5
A Healthy Version of Coconut Macaroons
Traditionally the coconut macaroons are made with egg whites, coconut and refined sugar but I have substituted the refined sugar with some ripe bananas and it gives the macaroons a perfect taste of banana. Combined with the coconut flavor it's the best! Since these coconut macaroons contain no added sugar, you can enjoy these healthy coconut macaroons without any guilt. Isn't that great?!
I love to eat a macaroon together with my evening coffee or just as a quick, sweet snack in the afternoon, when my brain and stomach needs an extra kick of energy. They are also great as a pre- or post workout snack. Well, know that I think of it, you can probably eat them any time of the day and you probably will because I warn you, you most likely will get addicted!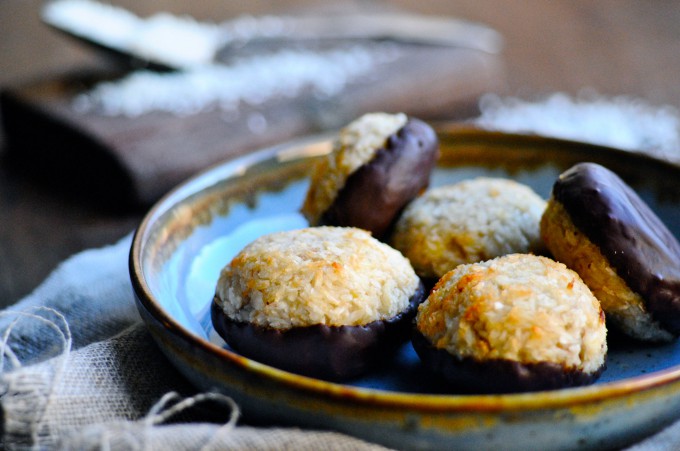 Add some extra flavor
I can also recommend adding some extra flavor to the coconut macaroons. Try for example to add some cinnamon or vanilla to the dough or use a dark chocolate with a orange taste for the chocolate layer. You can also dip the chocolate covered macaroons in some finely chopped nuts like hazelnuts, almonds or cashew nuts. It's really really good! This portion makes 5 small macaroons but double the recipe, if you want a larger batch.