In December, these traditional Danish christmas cookies are a must! They have the most wonderful taste of christmas and the combination of cloves, ginger and cinnamon is really a heavenly christmas combo!
The Danish christmas cookies are super crispy and I remember, when I was a child that I would always dip them in my hot chocolate or even mulled wine (alcohol free!), so they would get all soft and almost melt in my mouth. Loved it!
My Great Grandmother's Christmas Cookies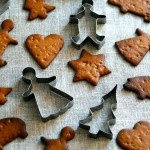 My Great Grandmother's Christmas Cookies – It doesn't get any better
22 oz. 625 gr. dark syrup
4.4 oz. 125 gr. brown sugar
8.8 oz. 250 gr. butter
Approximately 35 oz. 1 kg. of flour
2.6 oz. 75 gr. almonds, chopped
0.3 oz 10 gr. heaping tsp. cinnamon
1 tsp. ground ginger
1 tsp. ground clove
0.3 oz 10 gr. potash
A pinch of carbamate
Preheat oven to 325 °F
In a large frying pan, add the butter, syrup, brown sugar, and almonds and allow the mixture to melt.
Add cloves, cinnamon and ginger.
Add the potash and remove the pan from the heat. Let the mixture cool slightly.
In a large bowl, add flour and carbamate and mix well together.
Add the syrup mixture and mix together well until you have a dough like consistency.
Transfer the dough to a clean surface and divide the dough into 5 sections.
Roll each section into a long tube and put them in the refrigerator or freezer for a short while to set.
Cut the tubes into ½ inch slices.
Place slices on a baking sheet lined with parchment paper or wax paper and bake for approx. 7-8 minutes.


My Great Grandmother's Danish Christmas cookies
This recipe is from my great grandmother's cookbook from 1928! And it's really the best recipe for these special christmas cookies. I remember each year receiving a huge jar of homemade christmas cookies from my grandmother made after her mother's cookbook. So, baking these every christmas really makes me nostalgic but at the same time also gets me in the right christmas spirit.
A lot of families in Denmark make these for christmas. Some people cut out the cookies, whereas others roll the dough into tubes and slice them. I do both but mostly just slice them, as it is the easiest way and you'll have freshly bake christmas cookies in no time.
This portion is also a big one, so you can easily roll out a couple of tubes and freeze some of them. Whenever you're in the mood for freshly baked cookies, you just take a roll out of the freezer and after half an hour to an hour, cut them in thin slices and bake until crispy!