I made this pearl barley risotto with tomato and parmesan the other day and it's definitely a new favorite amongst my whole grain risotto recipes. Maybe you've already seen my pumpkin risotto with pearl barley and I've also made another version with cauliflower and spelt instead of pearl barley. It's only in Danish, but I will post it here on Karla's Nordic Kitchen in the nearest future. Meanwhile, you can see how it looks right here.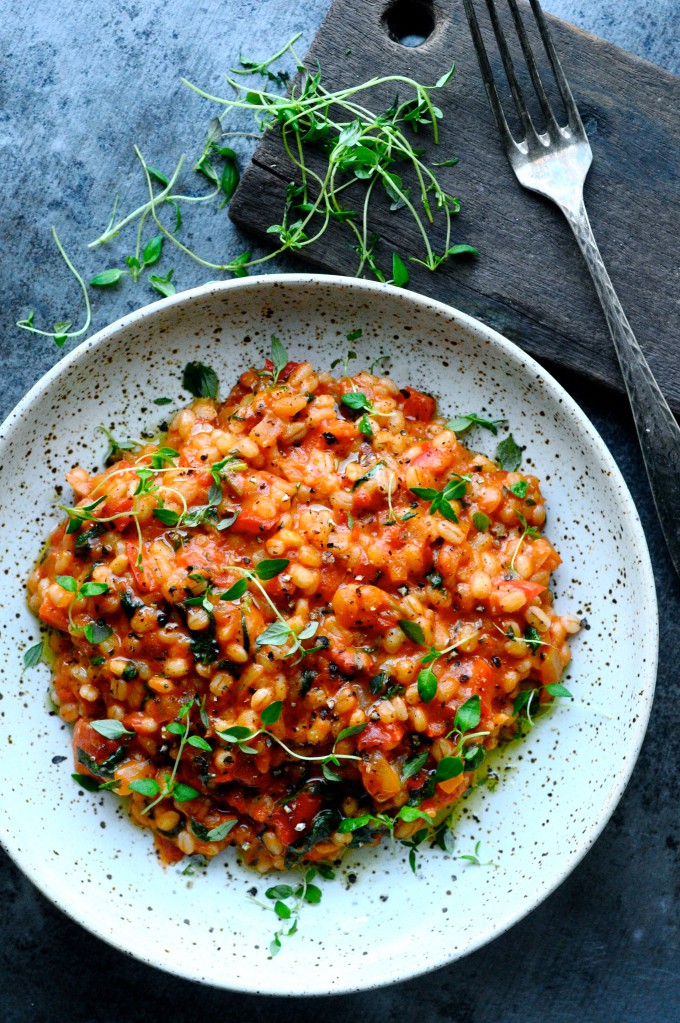 Easy and quick pearl barley risotto with tomato
This pearl barley risotto with tomato and parmesan is easy to prepare and super quick to make, which is just what you need, when you get home from work around 6.00 pm and feel hungry! It has rescued me many times and stopped me from spending way to much money on take away.
I made this dish together with some lamb chops that my husband brought home with him from Iceland, but I imagine that chicken or pork would be just as great a match, if not better!
I've also added some cayenne pepper to give the dish a delicious spark of flavor but chili flakes is just as good! And remember to drizzle the finished pearl barley risotto with lots of high quality olive oil. It really takes the dish to an even higher level.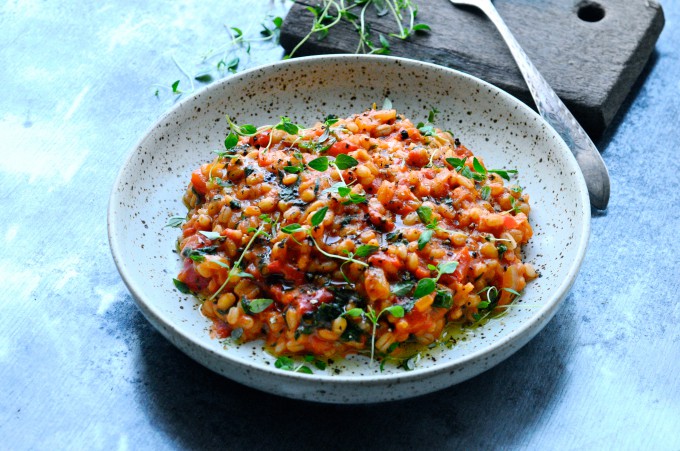 Pearl Barley Risotto with Tomato and Parmesan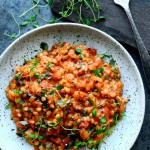 The best whole grain pearl barley risotto with tomato and Parmesan cheese. Don't look any further!
14 oz. (400 gr.) cooked pearl barley
1 can of diced tomatoes ((240 gr.))
1 tbsp of tomato paste
1 tsp cane sugar
1 onion
2 cloves garlic
2 tbsp finely chopped fresh thyme
Leaves from 1 bundle of fresh basil (roughly chopped)
1/4 tsp cayenne pepper or dried chilli flakes
1/2 tsp salt
4.4 oz 125 gr. Finely grated parmesan
Olive oil
Extra grated Parmesan cheese for garnish
Fry the finely chopped onion and garlic in olive oil for a few minutes in a hot pan .
Add chopped tomatoes and tomato concentrate and stir well .
Add finely chopped thyme, cayenne pepper, salt and sugar, and season to taste. Remember! Cayenne pepper is strong so adjust, if you do not want it so strong.
Add the cooked pearl barley and toss in the grated Parmesan.
Finally add the coarsely chopped basil and serve the pearl barley risotto with extra parmesan and some nice olive oil.