I just posted this
pumpkin risotto
with pearl barley on the online gastronomy and travel magazine
Honest Cooking
. I am really honured to have become a contributor to this great magazine full of so many delicious recipes from all over the world. I will of course still be blogging here at Karla's Nordic Kitchen and as frequently as I've done until now. The Honest Cooking thing is just an extra add on, which I'm totally grateful for.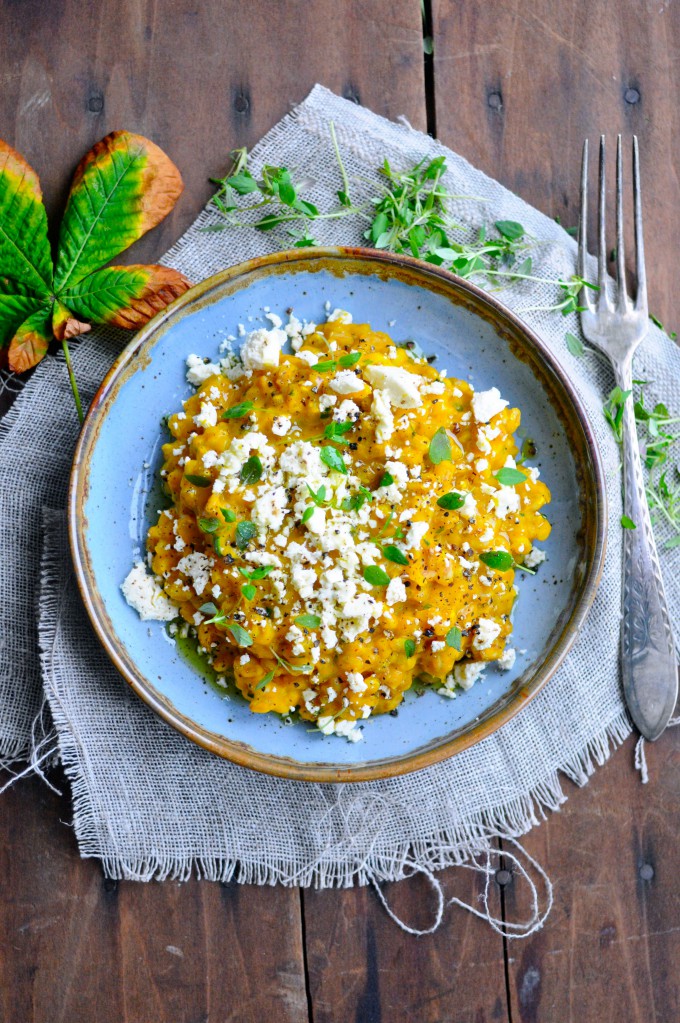 The best pumpkin risotto – the whole grain version
This dish is actually not a risotto since I use pearl barley instead of the white rice, so maybe the word pumpkin risotto is kind of misleading. However, the texture and the creaminess of a traditional risotto with rice is intact in this whole grain edition, so it's similar to the traditional risotto in many ways.
Healthy for U
However, the best thing about it is that it's so much more healthier for you, because the refined grain, rice, has been substituted with the whole grain, pearl barley. Btw, if you are interested in learning more about whole grains check out my new e-book. You can get it for free by signing up for my weekly newsletter.
10.6 oz. 300 gr. Hokkaido pumpkin
⅘ 2 dl. pearl barley
3/5 cups water (1½ dl. (used for cooking the pumpkin))
⅕ 1/2 dl. cups whipping cream
½ onion
1 clove of garlic
Butter
2 tbsp. fresh finely chopped thyme
1 pinch of nutmeg
Lots of freshly ground pepper
Salt
Apple Cider Vinegar
2.6 oz. 75 gr. Feta
Chop onion and garlic and fry in butter in a pan until the onion is soft. Set aside.
Cook pearl barley in plenty of water until tender. Drain and set aside.
Peel the pumpkin, remove the seeds and cut into small pieces.
Cook the pumpkin pieces in boiling water until they are tender and then drain, BUT save ca. 3/5 cups (or if necessary, a little more) of water for the sauce.
Put pumpkin pieces into food processor or blender along with pumpkin water, cream, finely chopped thyme, a pinch of grated nutmeg and salt and pepper.
Pour pumpkin sauce back into your saucepan and mix with pearl barley and butter-fried chopped onion and garlic.
Season with a little bit of apple cider vinegar, as it gives a flavor kick to the dish.
Garnish with crumbled feta cheese, a drizzle of good olive oil and plenty of freshly ground pepper.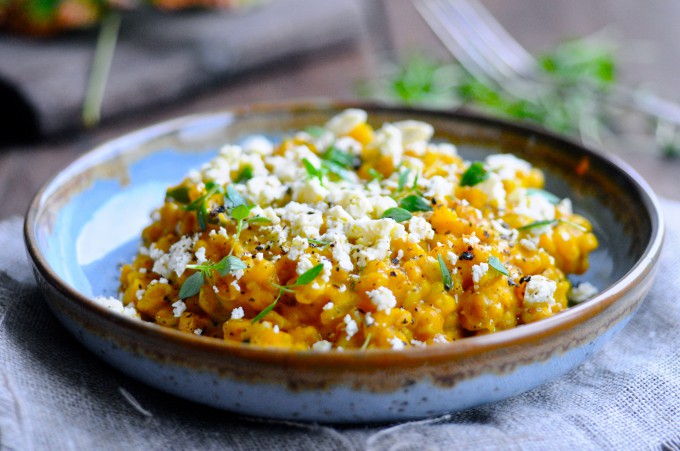 This pumpkin risotto is perfect for this time of year, when you can get the most beautiful orange hokkaido pumpkins. The combination of pumpkin and feta cheese is also a combo I can really recommend that you give a try. It's sooo good.
No canned pumpkin puree in Denmark
Lately, I have been reading many american food blogs and every one of them features a recipe with pumpkin, and I'm glad because I just love this orange veggie! But what I've come across is that many of the recipes include canned pumpkin puree. How great is that?
Maybe it's sounds strange to you that I'm excited about that, but I'll tell you, you won't find any supermarket here in Denmark that has canned pumpkin puree. Unfortunately, because it would save some time and the puree is great in so many dishes. But for now, I will have to do it the old fashion way with boiling the pumpkin and then blend it into a puree, which is okay since the result is so good.