Have you tried making quinoa porridge? If you haven't, I can highly recommend it! This is my Quinoa Porridge with Applesauce, Skyr and Honey Toasted Muesli. I love quinoa porridge since it gives the porridge a great texture and it's nice to eat something different than your average oatmeal porridge. As you can see in the recipe, I made a large portion of applesauce. I always do that because I just love to have applesauce at hand, as I use it as a sweetener in so many dishes. I put it on my yogurt, my oatmeal, eat it together with cheese and even bake with it. So, it doesn't matter at all, if my apples get too old, because I 'll just make a sweet and savory sauce out of them!
Actually, I always make fruit compote out of dull and overripe fruit. It tastes wonderful and can be used for so many things. In addition, you don't have to add extra sugar to the compote as the fruit is sweet  and juicy enough on its own, so that's a huge plus. Do you have any great quinoa recipes you would like me to try out then let me know…

Quinoa Porridge with Applesauce, Skyr and Honey Toasted Muesli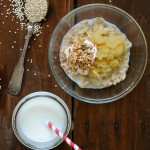 0.4 cup quinoa
0.8 cup milk
½ tsp. pure vanilla powder
2 tbsp. skyr
2 tbsp. muesli
1 tsp. honey
5 apples
1-2 tbsp. water
seeds from 1 vanilla pod
Peel the apples and cut them into small pieces. Cook the apples in a saucepan with a little water and vanilla seeds until you have a coarse puree. Set aside to cool.
Toast müsli in a dry pan with honey until golden brown. Set aside to cool.
Rinse quinoa thoroughly. Add quinoa to a saucepan with the milk and vanilla powder and simmer for approx. 15 minutes until the quinoa is cooked and the milk is absorbed.
Arrange guinoa in a bowl and top with apple mixture, sour cream and muesli. Enjoy!
Yield 2 servings.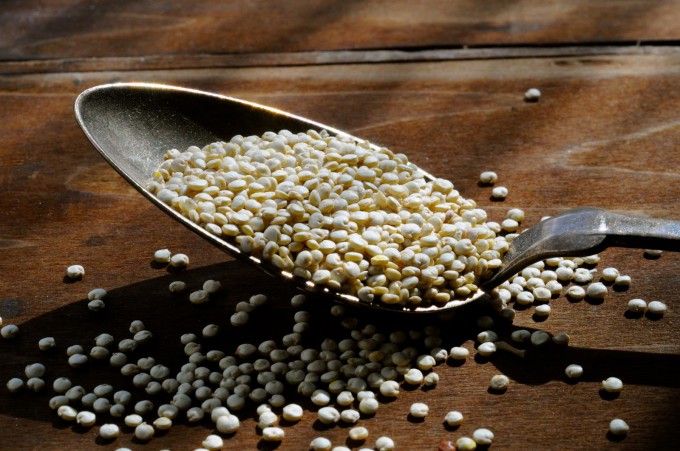 Quinoa Porridge and The Health Benefits of Quinoa
Quinoa is not only tasty, it's a great way to add nutrition to a meal, and it has many health benefits as well. Most nutritionists consider it as a "super food" as it's not only gluten free, but packed with protein, fibre, and other supplements as well. It's delicious when added cold to a salad, or used like pasta for a hot meal. Its name is often mispronounced and should be said as "keen-wa". It comes in in red, white, and black colours, which will provide an enticing appearance to any meal. Quinoa is actually a seed, not a grain, but it's still classified under the grains category in the nutrition guide. It's generally grown organically, so it's GMO-free, as well as gluten-free. Here's what Wikipedia says about Quinoa…
Here are five health benefits of making quinoa porridge recipes each day:
Quinoa is considered a great source of protein, as it contains most of the amino acids essential to our well-being. It's considered to have more protein than any other grain, as well as better protein, as it contains all the essential amino acids to make it a complete protein. This is good news for vegetarians.
Quinoa is extremely high in fibre, containing more than any other grain at 10-16 grams of fibre in every 100 grams of uncooked quinoa. Fibre can help lower blood sugar levels, cleanse cholesterol from the arteries, as well as making you feel full enough to stop overeating. It also keeps your bowel movements regular, easing discomfort in your lower digestive tract.
Flavonoid studies have been in the news a lot recently, and you're in luck, as quinoa also contains the bioactive substances kaempferol and quercetin. Flavonoids have been proven in lab studies to provide a wide range of healthy benefits in the body, including boosting your immune system to fight cancer, viruses, and inflammation. They've also been known to have anti-depressive effects.
For those who need to adapt to a gluten-free diet, it can be difficult substituting healthy products to their diet, without being stuck with just fruits and vegetables to eat. Many gluten-free alternatives are packed with corn syrup and refined starches, so you're actually doing your diet a disservice instead. Quinoa recipes are completely gluten-free and can be used as a pasta replacement when preparing meals. It's not only a healthy replacement, but doesn't provide the high carbs and high fat that regular pasta does to our diets. Quinoa will help the gluten-free sufferer to stick to their special diet, allowing their digestive tracts time to heal up from the damage caused by gluten.
Many people don't get enough minerals in their daily diets, including iron, magnesium, potassium, and zinc. Quinoa is a great way to easily increase your mineral intake, without trying really hard. Be sure to read the package to see if the quinoa has been pre-rinsed, or if you need to do it. Quinoa contains phytic acid, which binds to the minerals and will prevent absorption of the minerals in your body. The good news is that it can be washed away before you cook it with your meals.
Making quinoa porridge is a delicious and healthy way to boost your diet, and when you add it to your meals, you're increasing your daily nutritional intake of vitamins, minerals, and amino acids too.