This is one of my favorite easy quinoa salad recipes. It's actually a Red Cabbage Salad with Quinoa, Blueberries & Cinnamon Walnuts. We eat a lot of cabbage in Denmark and red cabbage is one of our all time favorites. I think I eat cabbage at least once a week, because it gives a great crunch to my salads. Red cabbage contains a lot of fibres that is good for you and not least your stomach. Quinoa is also great for you and I eat it a lot.
For this salad I have also added red quinoa, apples, dried blueberries and cinnamon walnuts. All ingredients that are healthy and nutritious. The cinnamon walnuts can also be eaten as a snack or included on a cheese plate. But I have to warn you, they are very addictive! This salad goes perfect with some pork chops or even a roast pork with crackling, which is also a sort of a national dish in Denmark.
The Health Benefits of Red Cabbage and Why To Use It In Your Quinoa Salad Recipes

Your mother always told you to eat your vegetables, and she was right, as vegetables are full of nutrients that sustain your body. Unfortunately, a lot of vegetables are rather plain when just eaten raw, so you'll need to prepare them in a way to entice your mind to try them. This doesn't mean you need to cook all your food, but you can learn how to chop up your vegetables into manageable bite-sized pieces and arrange them attractively on a platter. Half of the digestive process is visual, so the more you can entice yourself to eat heathier, the greater your chances for sticking to your goals.
Red cabbage must be one of the most attractive vegetables to look at. You can shred it up raw and add to coleslaw; it can be cooked into delicious spring rolls, and even eaten plain, with a dip. Just don't boil the nutrients out of it, as you might as well eat cake then. As well, cabbage doesn't smell that pleasant when it's overcooked.
Start thinking about how to fit cabbage into your meal planning and Quinoa Salad Recipes!
The brighter a vegetable's colour, the more loaded it is with antioxidants, and red cabbage is no exception, with its dark purply red marbled pattern. It's filled with antioxidants that give your immune system a boost, fighting against disease and cancer-forming cells.
Let's break down the nutritional values for one cup/250 ml of red cabbage. It has 22 calories and 1 gram of protein, 0 grams of fat, 5 grams of carbohydrates, and 2.5 grams of natural sugar, with a 90% water content. Red cabbage is one of the lowest glycemic index vegetables available, suitable for diabetic diets, or anyone just wishing to lower their carbohydrate intake.
Red cabbage contains a healthy dose of Vitamin C, and we all know how we're supposed to eat citrus fruit every day, but that doesn't always happen, especially when you live in climates where its expensive. Including red cabbage in your meals will give you enough Vitamin C to cover all your daily requirements, and it'll help your immune system fight off all those colds and flus that circulate in the winter time.
Adding red cabbage in your meals is like pouring a whole bottle of vitamins into your pot. In addition to Vitamin C that we mentioned above, it also contains traces of the following vitamins and minerals: vitamin B including thiamine, riboflavin, niacin and panthothenic acid, folates, vitamin K, calcium, iron, magnesium, potassium, phosphorus, and zinc. Why waste money on supplements, when you can add healthy vegetables to your cooking?
When you're working on losing weight, the experts recommend including a protein and a fibre with your meal, in order to feel full after a meal. Red cabbage contains 1 gram of protein per 1 cup/250 ml serving, as well as containing plenty of soluble fibre. Soluble fibre also cleanses your digestive system, sweeping fat away, which gives you a boost in fighting cholesterol balances as well.
Adding red cabbage to your meals will not only give you a boost of healthy vitamins and minerals, it'll also aid you in keeping your weight at a healthy balance, and it tastes good too – especially combined with this Quinoa Salad Recipes!

Red Cabbage Salad with Quinoa, Blueberries & Cinnamon Walnuts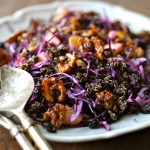 1/2 small organic red cabbage
1 tbsp. olive oil
2 tbsp. apple cider vinegar
1 apple (chopped ¼ inch cubes)
2/5 cup red quinoa
4/5 cup water
1 handful of dried blueberries
1 handful of walnuts
1/2 tsp. cinnamon
1 tbsp. honey
1 tbsp. butter
Rinse the quinoa well before use and simmer in salted water for approx. 15 minutes until all the liquid is absorbed. Set aside and cool.
Toast the walnuts in a pan with honey and butter and cinnamon, and let cool.
Put the red cabbage in a food processor and chop fine, or if you have a mandolin, grate finely and pour it into a bowl.
Add olive oil, apple cider vinegar and apple. Stir well.
Add the cooled quinoa into the red cabbage mixture and mix together.
Arrange the salad on a platter and sprinkle with cinnamon-walnuts and dried blueberries.
Yield 4 servings