It's not exactly the season for zucchinis at the moment but nevertheless I wanted to share with you my favorite recipe for zucchini pancakes. I made these beauties some time ago, when the late summer sun was shining through my kitchen window as you might sense in the pictures. Right now, when it's cold and dark outside, I am dreaming back to those days and the peak season of all my favorite veggies including zucchini!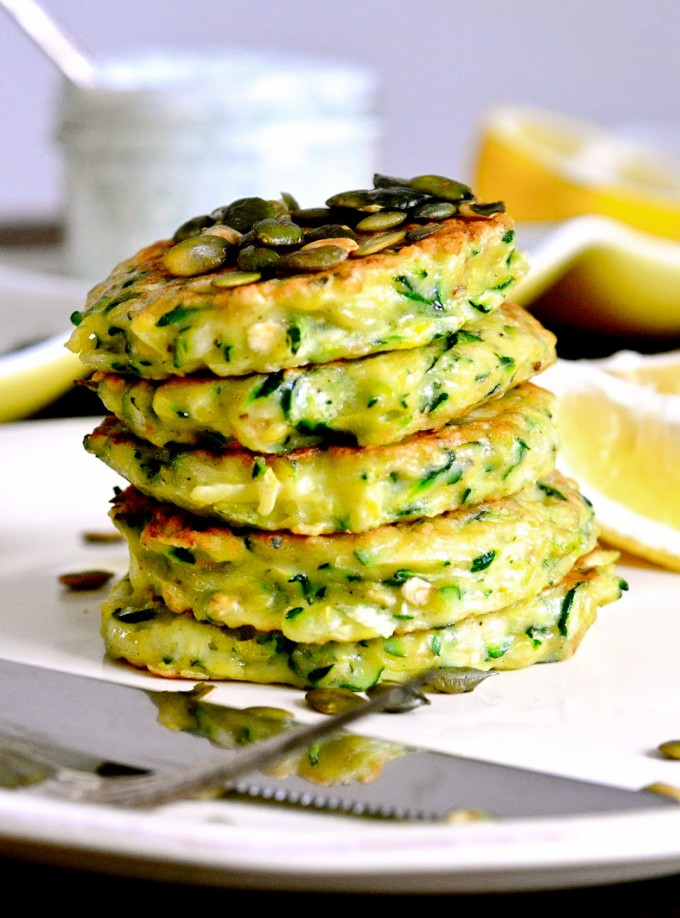 Serve Zucchini Pancakes with Sour Cream, or Smoked Salmon or maybe even Cottage Cheese!
Luckily I can still get organic zucchinis in my local supermarket, although not Danish they are still tasteful and makes it possible for me to make these pancakes all year long! I've chosen to serve these zucchini pancakes with a low fat dill sour cream and toasted pumpkin seeds. And I can really recommend that you try serving them with some smoked salmon. It's the best. Ohh… I almost forgot. Try mixing cottage cheese with dill and serve it along with these babies. It is also really, really good!
Zucchini Pancakes with Pumpkin Seeds & Dill Sour Cream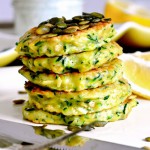 2 zucchinis (23 oz./650 gr.)
1 tsp. salt
2 eggs
3.5 oz./100 gr. wheat flour
3 tbsp. oatmeal
¼ red chilli
½ tsp. salt
olive oil
pepper
7 oz./200 gr. sour cream (low fat)
1 handful of fresh dill (finely chopped)
salt and pepper
pumpkin seeds
1 lemon (quartered)
Grate the zucchini into a large bowl. Sprinkle with 1 tsp. salt and let the zucchini stand for 10 minutes.
Squeeze the zucchini in your hands to remove all excess water.
Add egg, wheat flour, oatmeal, chili, salt and pepper to taste.
Swirl olive oil a few times around a large frying pan and fry the zucchini pancakes until they are completely cooked through.
To prepare the sour cream, add dill, salt and pepper and mix well.
To toast the pumpkin seeds, place in a dry pan until they turn lightly brown.
Arrange pancakes on a plate and sprinkle with pumpkin seeds.
Garnish with dill sour cream and lemon quarters.