These healthy whole grain cookies are on the top of my list of favorite snacks. I do also make them quite often and I love the fact that 'cookie' and 'healthy' are the two words that best describe these wonderful whole grain cookies.
I'm seriously a snacking kind of girl! I love to snack in between meals and I have always done it. I can't really get out of the house unless my bag contains something eatable and as a minimum I always have a little bag of nuts with me, just in case I felt like snacking.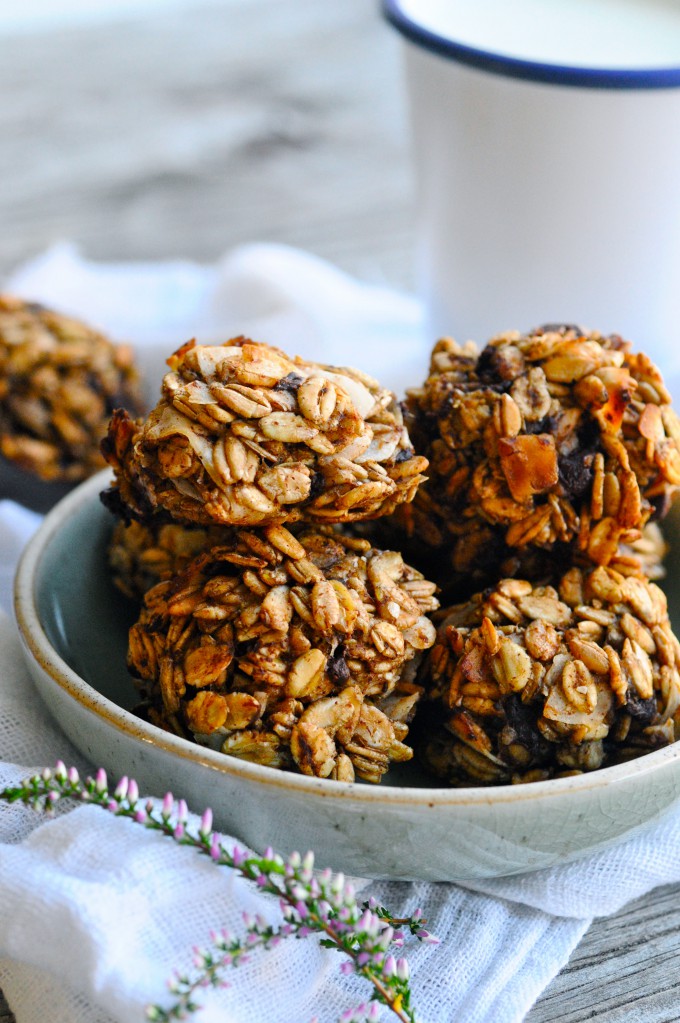 These whole grain cookies are perfect for the little hunger that sometimes pays it's visit in between the three main meals. I love to eat them around 11 am, when breakfast seems like ages ago and lunch is not before an hour or two. I also love to have one in the afternoon, when you need a little energy boost that doesn't spike your blood sugar as a normal cookie with refined flour or sugar would.
For these whole grain cookies I have used rye flakes. Rye is my absolute favorite whole grain and I mostly use rye flakes instead of oats. I think it has a more distinctive taste and a better texture than oats, and then of course it is super healthy. Porridge with rye flakes is one of my favorite ways to use these beautiful lille flakes. If you ever come across rye flakes in your supermarket, try it out!
Healthy Whole Grain Cookies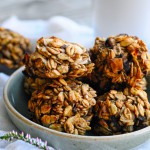 5.3 oz very ripe banana
5.3 oz. Rye Flakes
1 egg white
0.7 oz. Coconut flakes
1 oz. Dark chocolate 80%
1 tsp. cinnamon
Mash the ripe banana.
Mix the mashed banana with egg white and cinnamon.
Mix the rye flakes, coconut flakes and chocolate and stir well.
Form small cakes with your hands perhaps using a spoon, and place them on a baking sheet.
Bake the healthy cakes with rye flakes in a hot oven at 200 degrees. Approximately 20 minutes or until they seem solid and slightly golden. Turn any one of them. The bottom has to be nicely brown and crispy.