This beetroot salad with sprouts and goat cheese is such a nice winter salad that goes great with pork, chicken or just as it is. I love beetroots and especially when it's baked in the oven. Love this sweet, caramel-like beet that goes so perfectly together with tangy cheese like goat cheese or even a nice blue cheese.
I haven't measured the exact amount of the ingredients for this salad, so it's really just up to you how much of each ingredient you wanna add. I recommend lots (and lots) of goat cheese!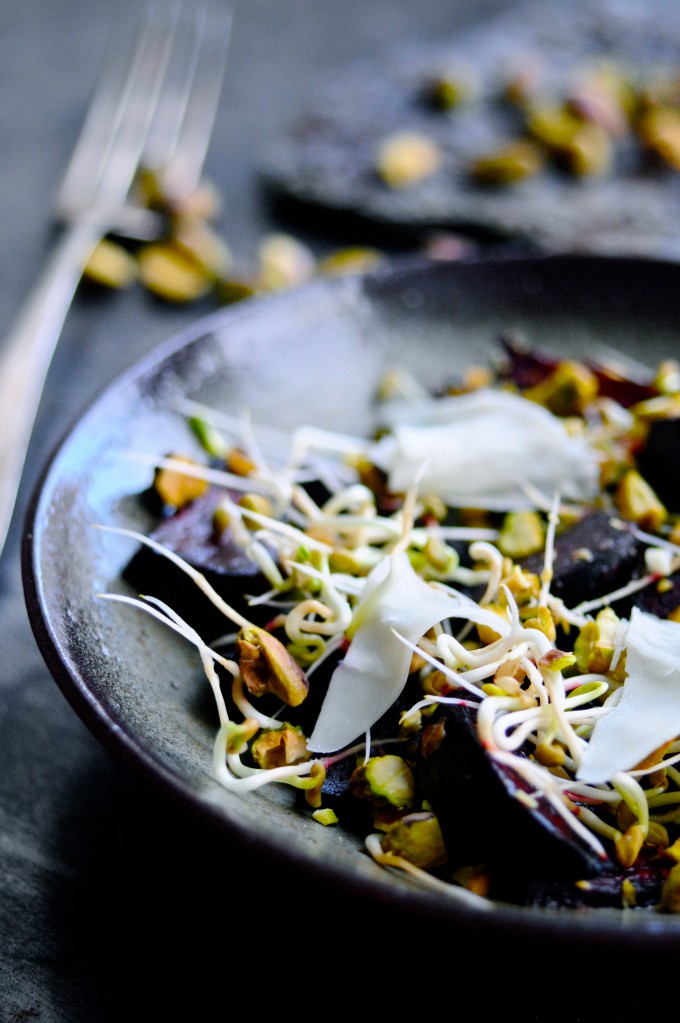 Beetroot Salad with Sprouts and Goat Cheese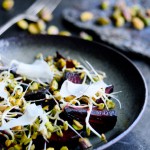 Beetroot
Sprouts (for example mustard Sprouts, mung bean sprouts or other sprouts)
Goat cheese
Unsalted pistachios
Olive oil
Lemon zest
Salt and pepper
Peel the beets and chop them into small pieces. Sprinkle them with olive oil and lemon zest and spread them on a baking sheet.
Sprinkle with salt and freshly ground pepper.
Bake the beets in the oven at 390 F (200 degrees), until they are done.
Serve the baked beetroots on a plate and garnish with fresh sprouts, grated goat cheese and chopped pistachios .
Finish with a little lemon zest, lots of good olive oil and extra salt and freshly ground pepper.

Beetroot Salad with Sprouts and Goat cheese for dinner or lunch
This salad really fits well into my healthy january diet and I had it both for dinner and lunch the day after. It's really nice cold as well as warm, so I can highly recommend that you make a large portion.
I made this salad some days ago, when the stove was still in the kitchen! Now, we've moved it into the bedroom – for a short while that is. We are renovating our kitchen so all the interiour has been removed and placed in the living room and bedroom for some time. It's not something that I'm super excited about as you probably could imagine but on the other hand, I just can't wait to enter my brand new, beautiful kitchen.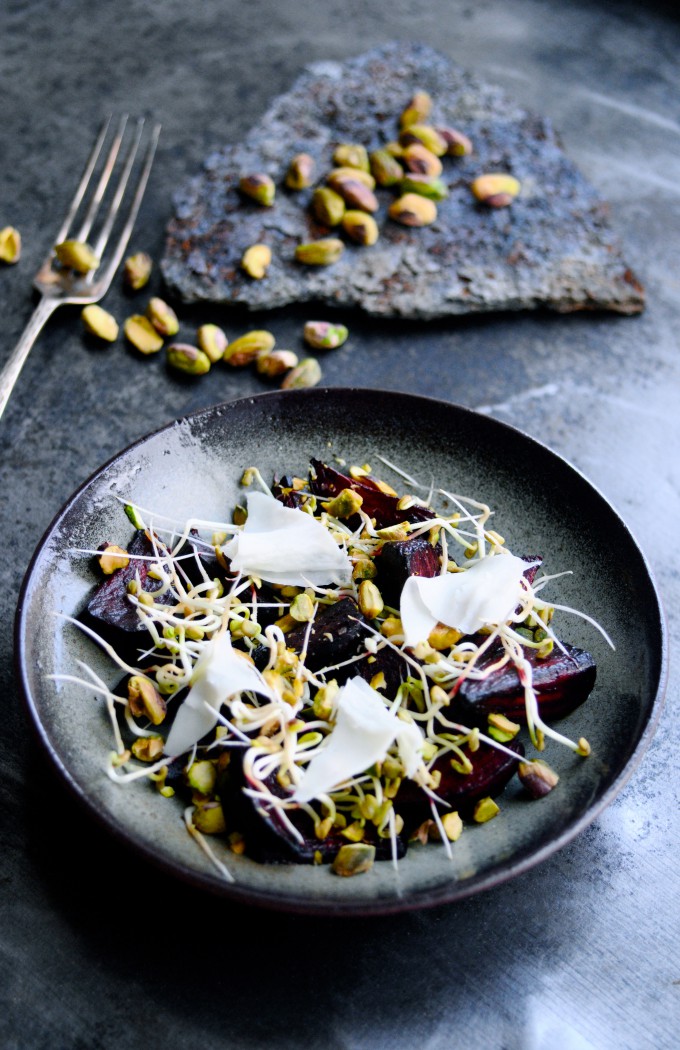 I'm spending a lot of time on Pinterest at the moment to get a lot of new inspiration for the kitchen. Isn't it just THE best place to be inspired? I actually just recently started to use Pinterest. It's not that popular in Denmark compared to for example Facebook or Instagram. But oh my, I'm hooked and have been spending tons of time lately looking at pictures of beautiful kitchens.
Can't wait to show you the final result of my kitchen remodeling. Hopefully it won't be that long!