This pizza with cauliflower crust is definitely on the top of my list of favorite recipes. I just love pizza with cauliflower crust and almost make it once a week. I hardly never make "the real thing" anymore, that is a pizza with a real pizza crust made of flour. Mainly because I'm eating low carb in general but even more so because it simply just taste better with the cauliflower, if you ask me.
You can top this cauliflower pizza base with whatever you like. I've used Parma ham and blue cheese and added some slices of apple. Love the combination of the sweet apple and the salty parma ham and strong blue cheese. The classic pizza topping with pepperoni sausage and cheese is also really good on this low carb pizza base.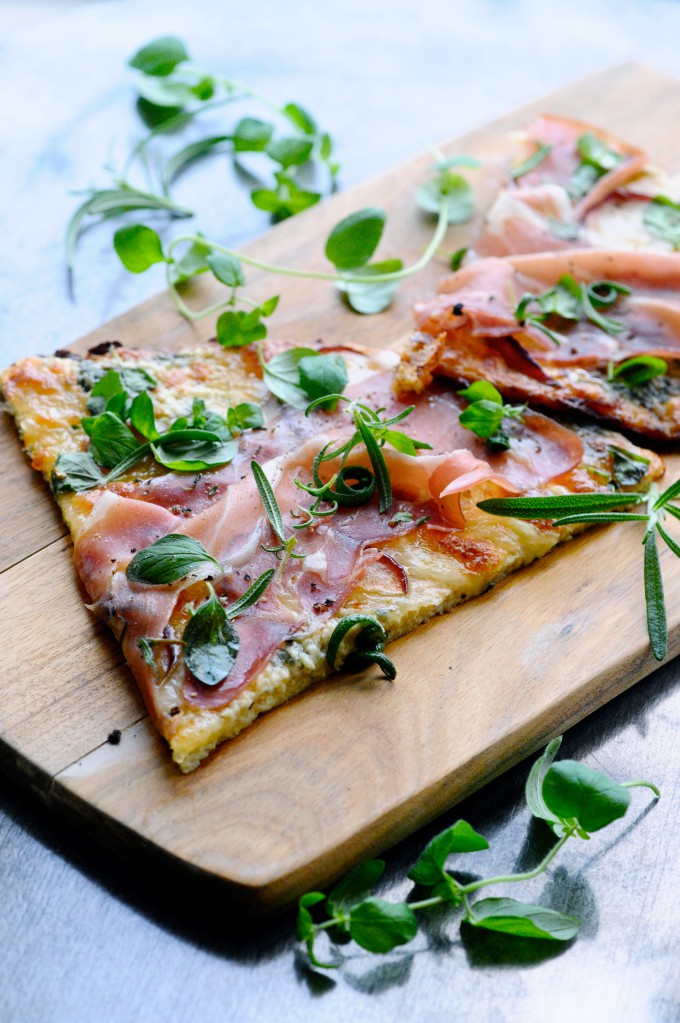 Pizza with cauliflower crust and other ideas
On Pinterest, I've seen that you can also make "bread sticks" out of this cauliflower "dough". Gooey melted cheese on a wonderful low carb cauliflower base, what's not to like? Definitely gonna make that soon.
Oh yes, another way to use this cauliflower base is to make small blinis. Just make small round blinis instead of one big, round pizza base. Bake them in the oven and serve them with sour cream, red onion, small apple cubes and caviar, lumpfish roe or maybe even smoked salmon.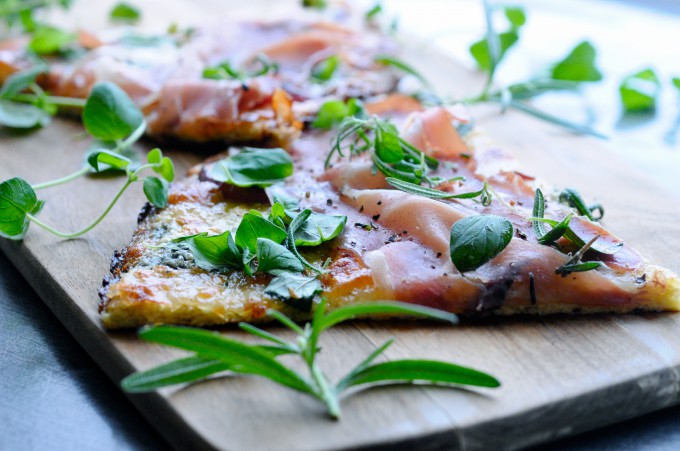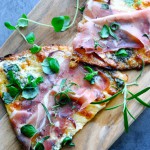 14 oz. 400 gr. Cauliflower florets
3 eggs
1 tbsp. Psyllium seed husks
1/2 tsp. salt
Blue cheese
1 mozzarella
Parma ham
Apple
Olive oil
Fresh herbs such as oregano (rosemary and thyme)
Blend the cauliflower florets in your food processor until you have a couscous-like texture. Mix the grated cauliflower well with eggs, psyllium seed husks and salt.
Spread the dough on a baking sheet with a spoon and form a round pizza base.
Bake the cauliflower pizza base in the oven at 390 F (200 degrees) for about 25 minutes or until lightly golden.
Pull the mozzarella apart and put it on the baked pizza base along with blue cheese and garnish with slices of apple.
Drizzle with olive oil and bake the pizza in the oven at 390 F (200 degrees) for about 10-15 minutes, or until the cheese is melted and lightly golden.
Take the pizza out of the oven and finish with parma ham and garnish with fresh herbs and freshly ground pepper.