These date balls with cherry wine is a deluxe version of my all time favorite date balls. Some time ago, I posted these Christmas date balls and besides them I've made a dozen of other versions. However, this version with cherry wine must be my favorite.
They have this perfectly sweet taste of cherry and you get this faint hint of alcohol, which I like in sweet treats like these date balls (I've always been a huge fan of those little chocolates you can by with alcohol inside!).
I love to have one of these date balls with cherry wine (or maybe two…three) with my afternoon coffee or evening coffee for that matter. They are perfect when you want to satisfy the sweet tooth and you avoid all the guilt of filling yourself with tons of refined sugar and that's something I like. On top of that they are super easy to make, you just put it all in a blender or food processor and press "on".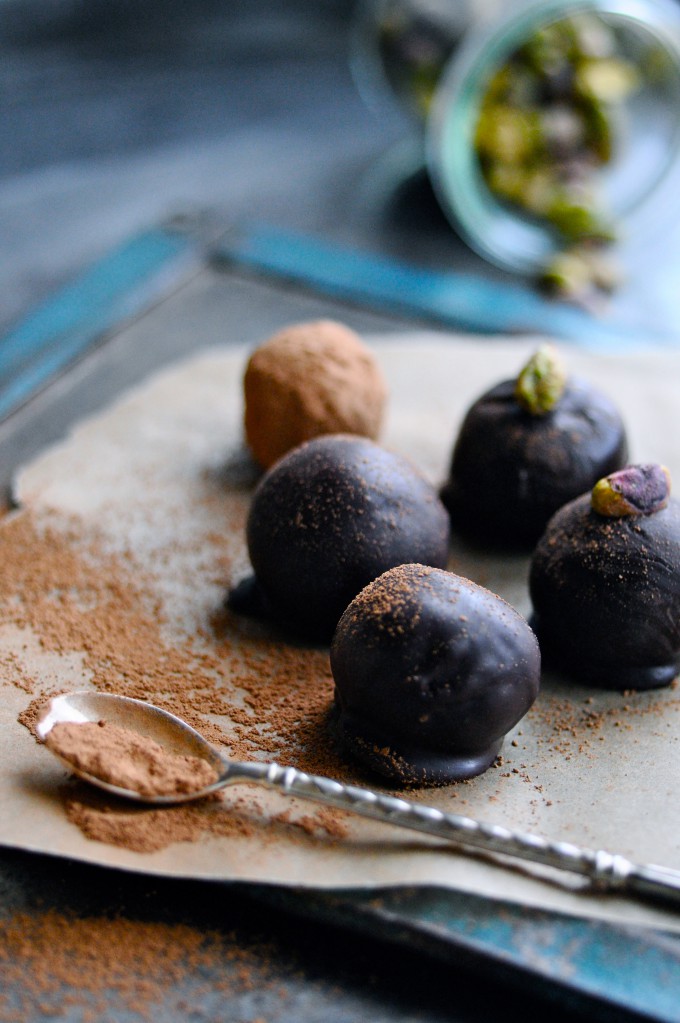 Date Balls with Cherry Wine
5,3 oz 150 gr. Cashews
3,5 oz 100 gr. Medjool dates
4 tbsp. cherry wine
1 tsp. raw cocoa
Dark chocolate 80 % cocoa
Unsalted pistachios
Blend the cashew nuts with the other ingredients in a food processor or blender until you have a fine dough.
It's quite sticky so quickly roll the dough into a log and put it in the fridge for half an hour. This way it's easier to form the dough into small date balls later on.
Form small balls with your hands and dip them in melted dark chocolate and top each date ball with a pistachio nut.
The bad thing about these date balls is that as soon as you have made them…. they're gone! I can recommend that you double the recipe and keep them in the fridge. Although they'll probably not stay there very long anyway.