I probably eat oatmeal 4 or 5 times out of the 7 mornings and this is maybe the best oatmeal I know of! A warm bowl of oatmeal, sweetened with mashed banana and made extra creamy with cashew nut milk. AND then topped with the best healthy cookie dough bites that are refined sugar free and flourless but taste like dessert! What's not to like?!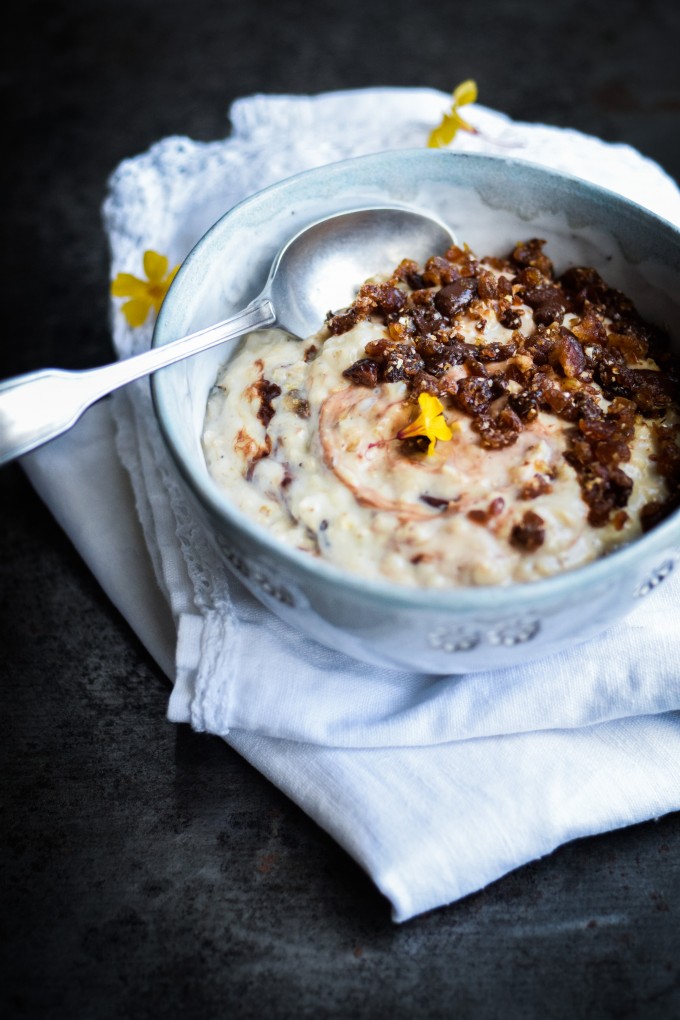 Best oatmeal made into pancakes
If by any chance you have some oatmeal left, or you're just making a double portion, then don't cheat yourself from making my easy oatmeal pancakes. They seriously get even better, when they are made with nut milk and banana as in this recipe. So if you double the recipe, you have enough for both the best breakfast and the best afternoon snack. Yay, right?
Anyways, I hope you like this recipe as much as I do and feel free to write a comment on your experiences with the recipe or any other of my Nordic inspired recipes. I'd love to hear from you guys out there!

Best Oatmeal with Cookie Dough Bites
This is THE best oatmeal with cookie dough bites that is healthy but taste like dessert!
2 1/2 dl (1 cup) cashew milk (or cows milk, if not vegan)
1 dl (0.4 cup) instant oats
1/2 ripe banana
1 tbsp cookie dough bites + extra for topping
Mash the banana with a fork and mix it with oats and milk in a saucepan.

Bring to a boil and stir.

When the oatmeal thickens, remove from heat and let rest for a couple of minutes.

Mix the cookie dough in and stir lightly.

Pour oatmeal with banana and cookie dough in a bowl and sprinkle with extra cookie dough bites. Serve immediately and ENJOY!