Oh my oh my… this healthy cookie dough bites recipe is my new go-to recipe, when I need something sweet and tasty but without all the white sugar. That being in the morning, afternoon or late night. Because this healthy cookie dough can be enjoyed at all times and in so many ways. On top of your morning porridge, a crispbread with almond butter or on top of maybe some healthy banana icecream! You know the nice cream made of only frozen banana?! YUUUM
Cookie dough bites recipe that you will make again and again
I personally just LOVE to top my morning oatmeal with some healthy cookie dough bites. There's actually nothing that beats that (at least not at the moment). And the best thing is, when you swirl your spoon around so the chocolate melts in the hot porridge. Can you imagine that? So yummy!
Another great treat is a slice of our typical Danish rye bread with a layer of almond butter and then some cookie dough bites on top. That, my friends, is just the snack!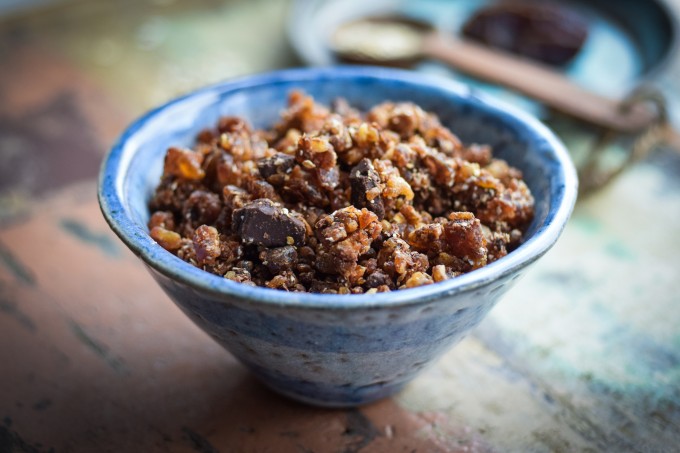 Healthy Cookie Dough Bites Recipe
A lovely healthy cookie dough bites recipe that will keep you longing for more!
150 gr (5.3 oz) pitted medjool dates
25 gr (0.9 oz) instant oats
30 gr (1.1 oz) rougly chopped dark chocolate 70 %
1/4 tsp pure vanilla powder
Blend oats in a food processor into flour

Add the pitted medjool dadler and blend until the dates are chopped into fine pieces.

Finally add very coarsely chopped dark chocolate and blend for a few seconds until everything is blended well together.

Use your cookie dough as a toping for oatmeal, fruit salad or other breakfast or dessert.