These blackberry muffins with coconut and cardamom are now officially my favorite kind of muffins! I love everything about them. The sweet taste of coconut and the distinct taste of cardamom, which is a spice we use A LOT here in the Nordic countries. And then of course the star of them all the sweet and little sour blackberries. Don't we all love them?!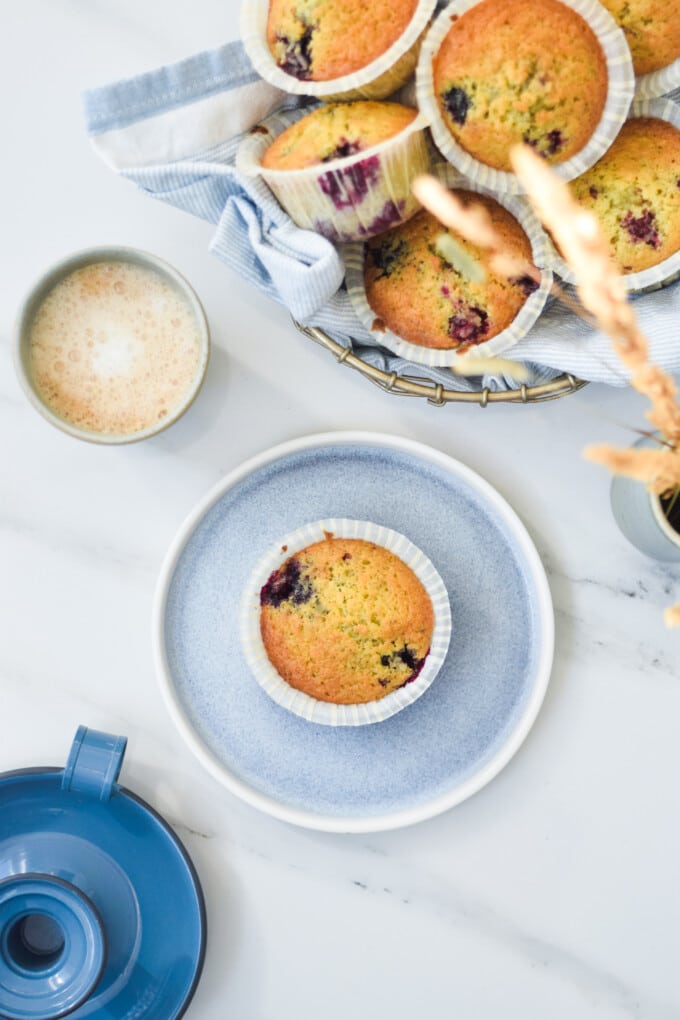 Blackberries from our forest
Me and my little family, Nord and Bue, two boys at the age of 5 and 2, and my husband Mikkel love to go to the forest just right next to where we live and pick (or is it called forage) edible ingredients. Like for example mushrooms, herbs or berries.
Right now blackberries is in season here in Denmark, so that is what we are looking for at the moment. And we have already found some good spots where there are plenty!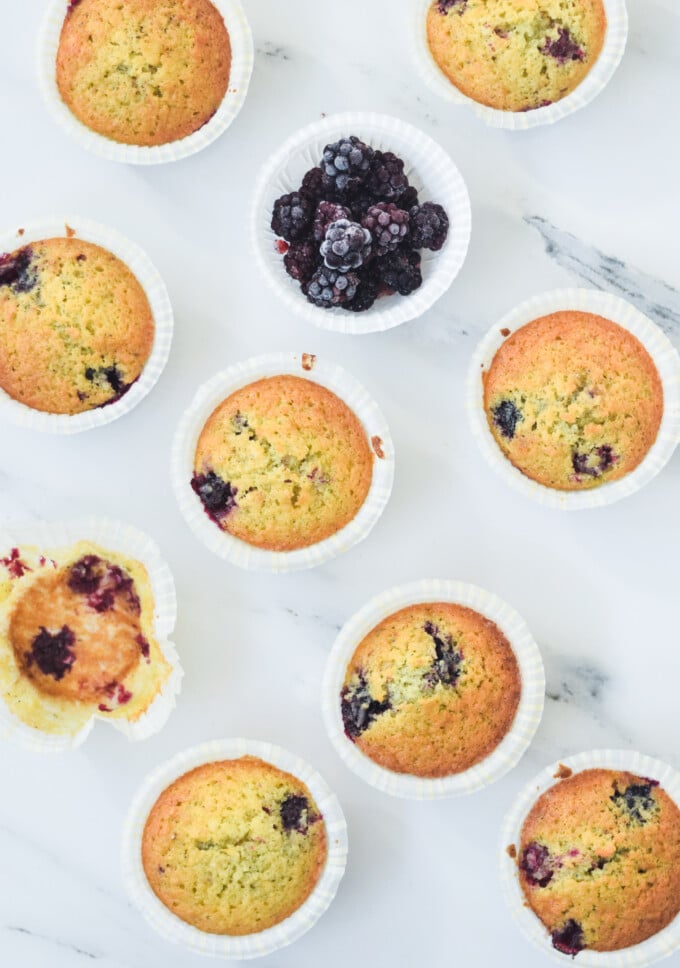 The best thing about these blackberry muffins with coconut and cardamom
These muffins keep fresh for a few days. This means they are also perfect the day after they have been baked. But I warn you, they are very addicting, so I wouldn't count on having any left the second day!
They also freeze very well, so you can easily make a double batch. I've done that a few times, so that I now have plenty of blackberry muffins at hand, if guests suddenly knock on the door. And I bet that once the weather turns cold and the day darkens and the times when we could harvest summer's foods seem so long ago, I will really appreciate this.
Blackberry muffins with coconut and cardamom
3 eggs
125 gram cane sugar
100 gram wheat flour
1 tsp baking powder
1 tsp ground cardamom ((preferably whole seeds ground in a pestle/mortar))
50 gram fine shredded coconut
125 gram softened butter
150 gram frozen blackberries
Set the oven at 200 degrees (390f)

Beat eggs and sugar together in a bowl for a minute until light and fluffy.

Mix wheat flour together with baking powder, cardamom and coconut.

Turn flour mixture and soft butter into the egg mixture and stir well until you have a smooth cake batter.

Finally, turn the frozen blackberries in and stir. ! The frozen blackberries make the dough a little harder to stir around as it gets cold, but that's just fine.

Using 2 tablespoons pour the dough into muffin tins and place on a baking sheet. Bake muffins in the oven for approx. 20-25 minutes depending on oven. Check after 20 minutes to see whether they are done.