Sugared redcurrants is something that many people here in Denmark make, when its the high season of redcurrants. And it is now! I just love redcurrants and luckily where we live, there is a lot of redcurrant bushes that are free to pick from. So each year, me, my husband and our two sons at 2 and 5 pick A LOT of redcurrants to take home and make somthing delicious out of in the kitchen.
Sugared redcurrants for desserts or savory dishes
I typically use the redcurrants in the sweet kitchen. Either I make these sugared redcurrants or trifle or cake. Typically a brownie-like kind of cake with white chocolate and redcurrants! Yum.
But it's also absolutely delicious to serve these sugar coated redcurrants with savory dishes. For example Danish meatballs or another traditional Danish dish the skillet meatloaf with sauteed cabbage. It would go so well with that dish. Especially if you serve it together with a savory mushroom sauce!
What do you make with redcurrants
As I have readers from across the world, I would love to know what you typically make with redcurrants? Do you as well use them in both the sweet and savory kitchen? Let me know in the comments field below!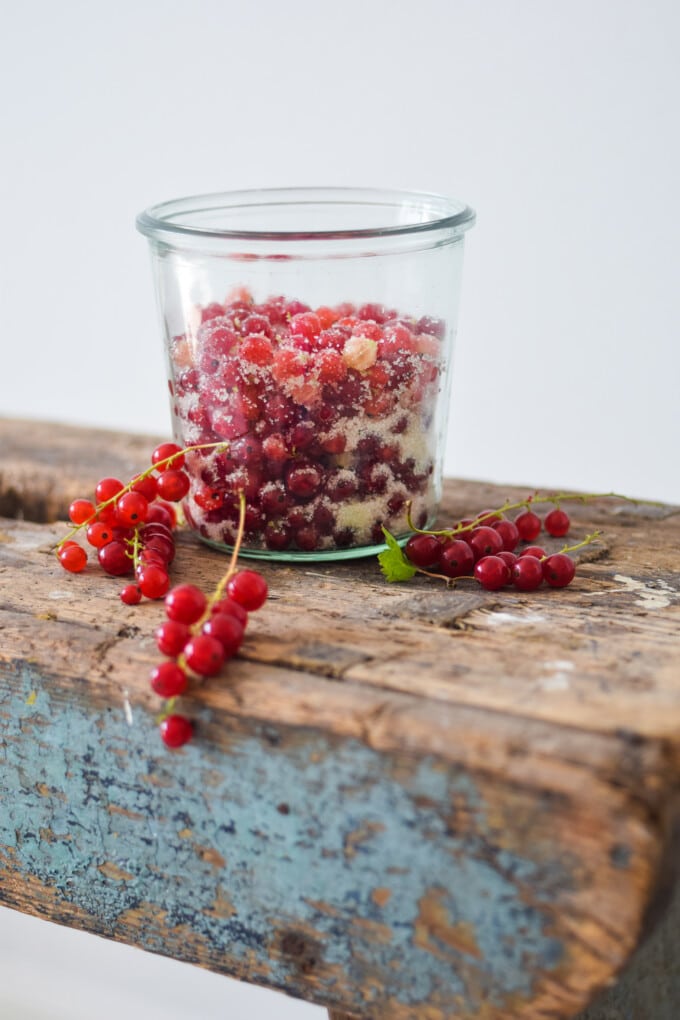 Sugared redcurrants
200 grams redcurrants
70 grams sugar
Start by placing a layer of currants and then a layer of sugar in a jar. Continue this way, so you have layers of currants and sugar, until finished.

Place the lid on and shake the glass well.

Leave it for minimum 1 hour before eating.

Keep the redcurrants refrigerated and use them in savory or sweet dishes.