This bulgur wheat salad with kale, persimmon and pomegranate and so many other beautiful ingredients is really my favorite salad at the moment. I just love the combinations and everything just complement each other so perfectly.
I've made this salad so many times during Winter and I think I will continue doing so while kale, persimmon and pomegranate is in season. There is nothing better than to eat seasonal vegetables, when they are at it's best!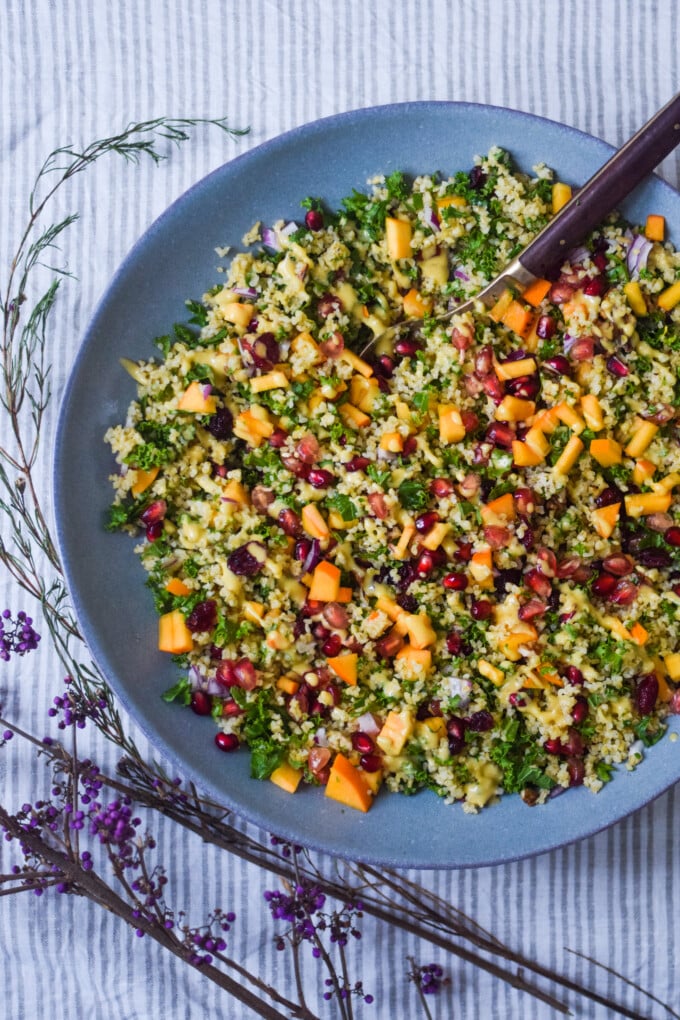 Bulgur wheat salad with an easy mustard honey dressing
For this bulgur salad, I've made a very simple but so delicious dressing. It's just dijon mustard, olive oil, apple cider vinegar and agave nectar mixed together. It works so well with especially the kale and the fruit.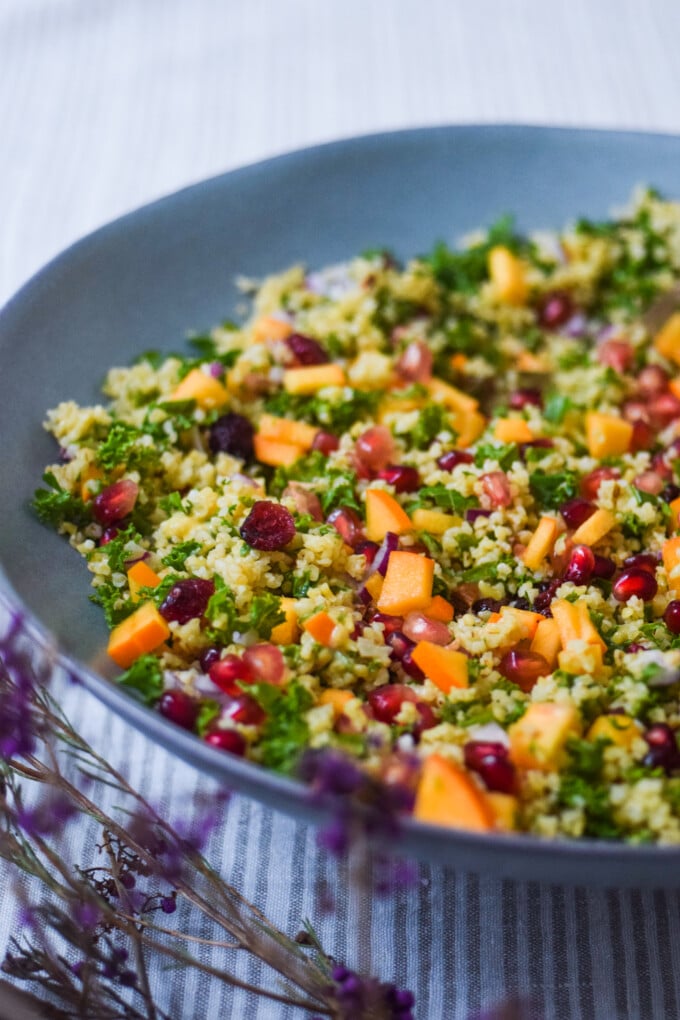 We just bought a holiday home in Sweden!
On a more personal note, me and my husband just bought a house in Sweden. 2,5 hours drive from where we live in Denmark. It has always been our dream to have a house in Sweden, where our children can create childhood holiday memories and where we can spend Christmas, Easter and long weekends. And now we've found just the right house. It is so beautiful there.
The house is situated just right next to a beautiful river and next to an old watermill. We just bought it in Decmeber, so we haven't been there much yet and now we just cant wait until the next time we're going there. Luckily it's already next weekend, so it wont be long!
One of the things I'm really looking forward to is Summer in Sweden. Where I'm going to pick so many wild blueberries and raspberries and mushrooms! It's gonna be so awesome and I can't wait to get in the kitchen and develop so many new recipes with all the goodies I've foraged.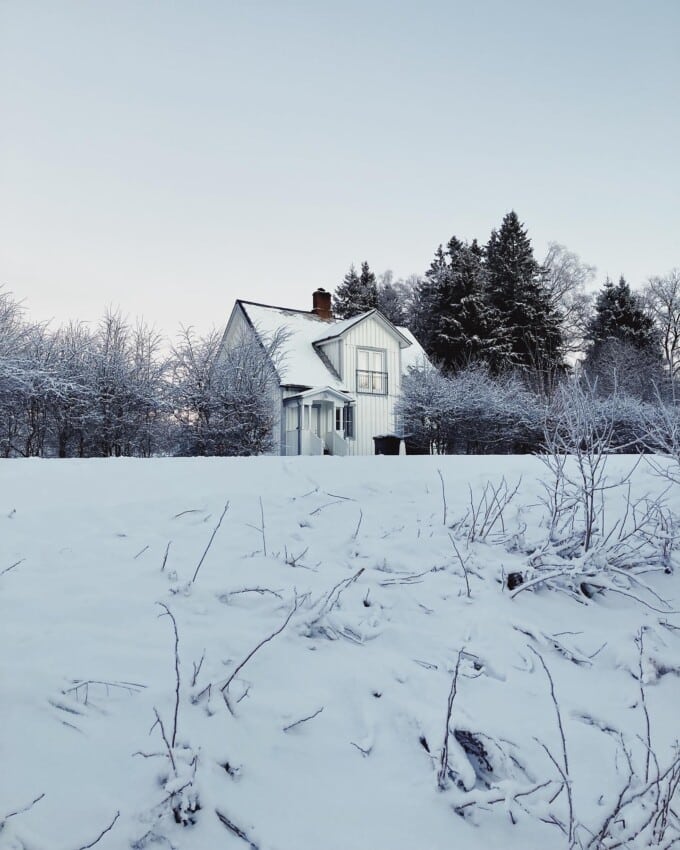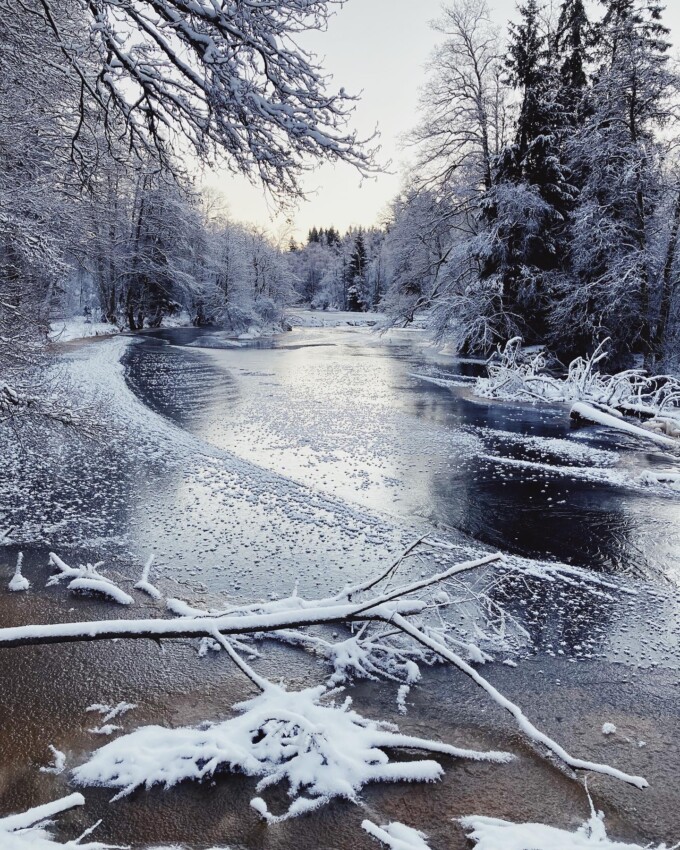 Bulgur wheat salad with kale
2 dl (approx. 0.8 cup) bulgur wheat
3 dl (approx. 1.2 cup) water
2 large stems kale
1/2 pomegranate
1/2 red onion
1 persimmon
1 small handful of coarsely chopped walnuts
2 tbsp dried cranberries
Mustard dressing
3 tbsp olive oil
1 heaped tbsp Dijon mustard
1,5 tbsp apple cider vinegar
1 tsp agave nectar
Bring bulgur and water to a boil under a lid in a small saucepan. Let it simmer until all the water is absorbed. Remove the lid and allow the cooked bulgur to cool.

Peel the leaves of the kale stems and rinse thoroughly to remove any sand.

Finely chop the kale and put it in a bowl.

Take out the pomegranate seeds and put them in the bowl.

Toss in the bulgur.

Chop the red onion finely and toss.

Cut the persimmon into small pieces and put in the bowl.

Add coarsely chopped walnuts and cranberries. Toss the salad well.
Mustard dressing
Whisk all the ingredients for the dressing together in a small bowl. Pour the dressing over the salad when serving.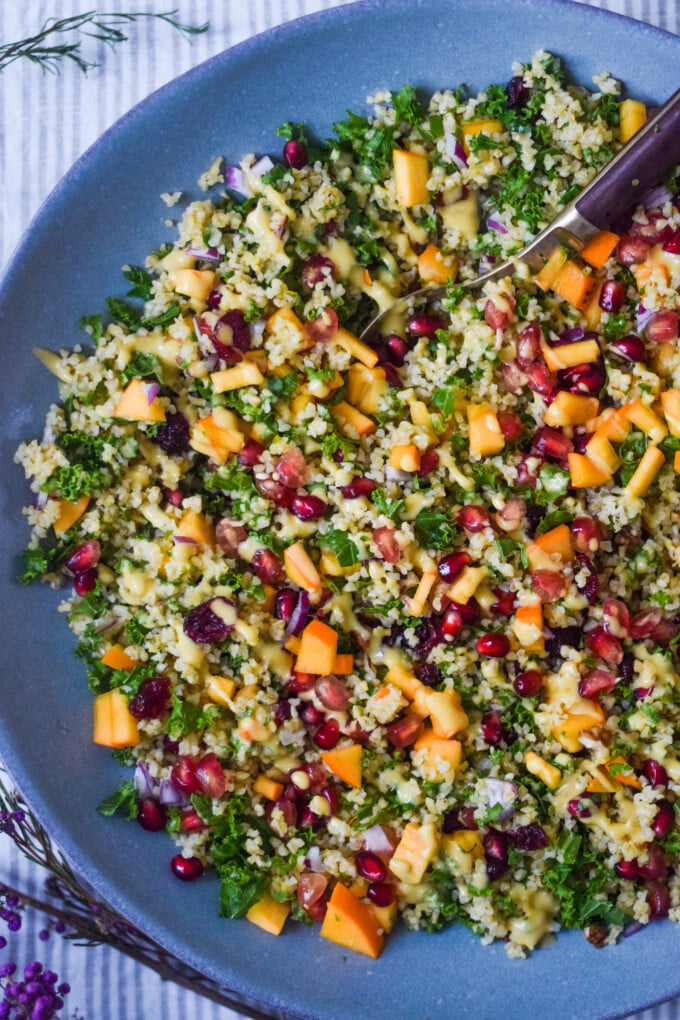 For more Nordic inspired salads check out my salad category on the blog! You are also more than welcome to follow me on my instagram @karlasnordickitchen.