This shredded carrot salad is a favorite among families in Denmark. It is easy to make, and is often eaten together with a typical Danish dish; meatballs in curry sauce with rice. I have added some finely grated ginger to my shredded carrot salad and given some suggestions for toppings.
The cinnamon flavored rye flakes are my favorite. I always make a large batch, so I can put it on my salad as here or even my morning yoghurt.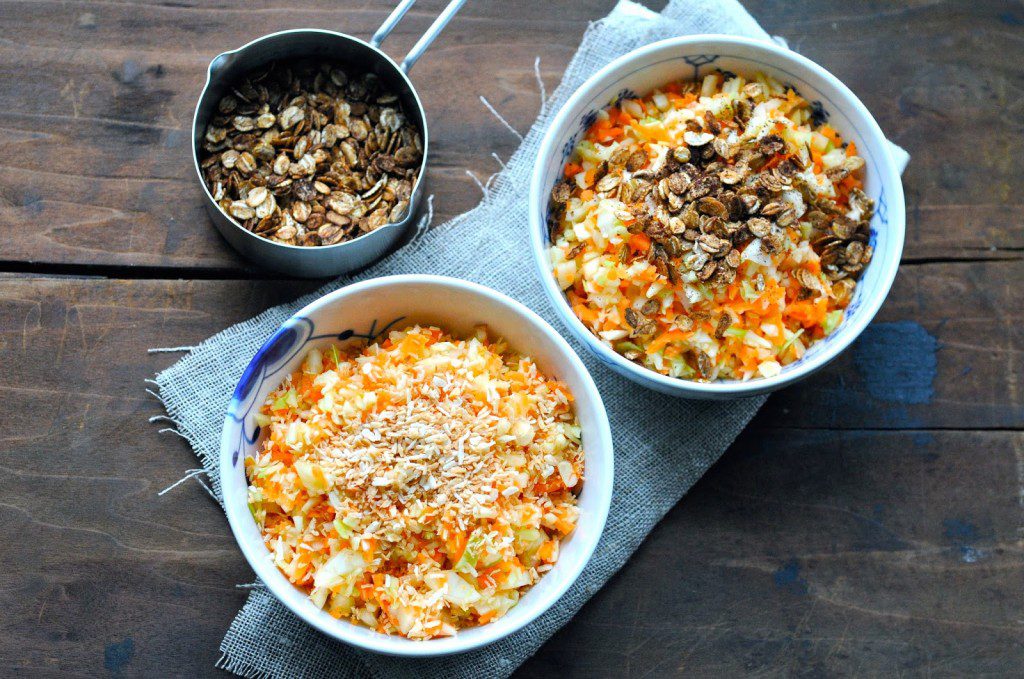 Shredded Carrot salad with Ginger with two kinds of topping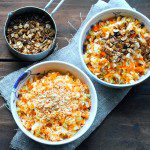 Shredded Carrot salad with two kinds of topping is the perfect sidedish!
4 carrots
¼ of a white cabbage
1 tsp. finely grated fresh ginger (Hint: you can freeze ginger, it is much easier to grate)
1 tsp. agave syrup
1 tbsp. olive oil
Garnish
Rye flakes
Cinnamon
Butter
Desiccated coconut
Cut the carrots and white cabbage into chunks, and put it into the food processor. Blend until mixture is finely chopped.
Add mixture with finely grated ginger, agave syrup and olive oil.
Toast the desiccated coconut in a dry pan until it begins to take a bit of colour.
Remove and set aside to cool.

Add butter to the heated pan and add the rye flakes. Add the cinnamon and fry until a little bit crispy. Allow to cool.

Serve the salads with roasted coconut and rye flakes on top.