I am very fortunate to have a husband who likes to go fishing, or to put it right, I'm lucky when he catches something and take it home with him. Some time ago, Mikkel was in Iceland and caught a large wild salmon. He vacuum-packed it and took it back to Denmark. It has been in my freezer until just recently, when I used some of it to make these wonderful salmon cakes with capers, apple and lemon.
Salmon cakes served with…
Salmon cakes are one of my favorite fish dishes, and it's something I make quite often. Well that is, I only make it, when I can get something good, organic salmon at a reasonable cost. These salmon cakes are especially good due to the salty capers, tangy lemon zest and sweet apple. They will go very well together with a parsley sauce and some potatoes, or maybe even together with a basil pesto and some whole grain pasta.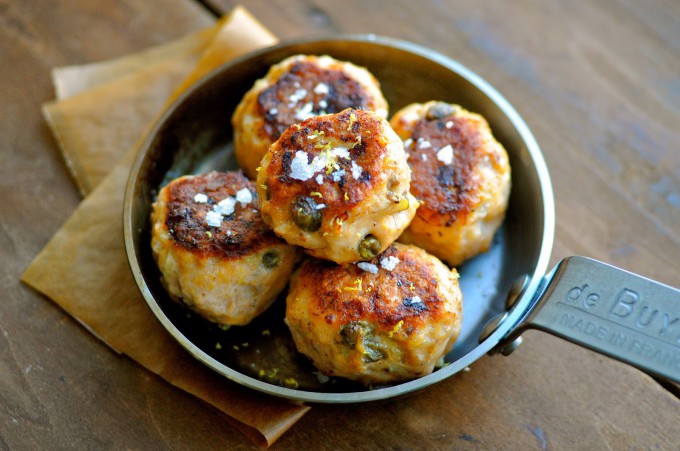 Salmon Cakes with Capers, Apple and Lemon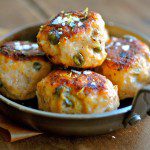 Super easy and yummy salmon cakes with capers, apple and lemon
14.1 oz. fresh salmon
1 egg
1 tbsp. Psyllium Husk Fiber (available at health food stores)
½ onion (finely chopped)
1 tsp. salt
1 tbsp. capers
¼ apple
Zest of ½ lemon
Freshly ground pepper
butter
Remove the skin from the salmon and cut into small pieces and put in the food processor.

Add eggs, Psyllium Husk Fiber, onion, salt, lemon zest and freshly ground pepper.

Pour the batter into a bowl and mix in the small apple pieces and the capers.
Shape the mixture into small medallion size shaped cakes and fry in the hot pan until medium brown. Shake the frying pan occasionally to ensure the salmon cakes do not stick to the pan.
Hint: if you use a spoon dipped in water to transfer the medallions to the frying pan, they won't stick to your hands.