These cauliflower blinis are the perfect starter, if you want to impress your guests. I made two different versions. One version with mackerel rillettes and another with lumpfish roe. The latter was served with a sour cream (48%), finely chopped red onion and pea sprouts. While the mackerel rillettes was served with red sorrel. Both versions tasted really good, and I am a big fan of replacing the traditional blinis with blinis made of cauliflower, not least because it's so much more healthy.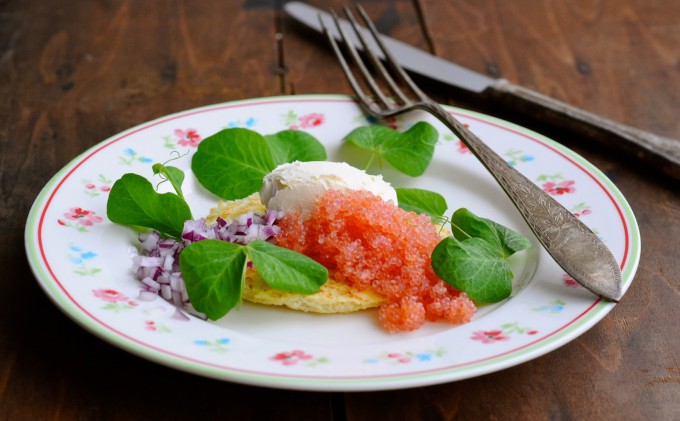 Cauliflower Blinis served 2 ways with Mackerel Rillettes & Lumpfish Roe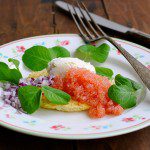 Cauliflower blinis
400 gr (14 oz) cauliflower fleurets
3 eggs
2 tbsp. Psyllium Husk Fiber
1 tsp. salt
Topping
Mackerel Rillettes
Lumpfish Roe
Sour cream (48% or Greek Yogurt)
Red Onion (finely chopped)
Pea Sprouts
Red Sorrel
Preheat oven to 200 degrees (375 °F)

Put cauliflower fleurets in a food processor and chop them fine.

Transfer mixture to a bowl, add eggs, salt and Psyllium Husk Fiber and mix well.
Form small blinis size shape and put on a baking sheet lined with wax paper.
Bake for approx. 15 minutes, or until lightly golden.