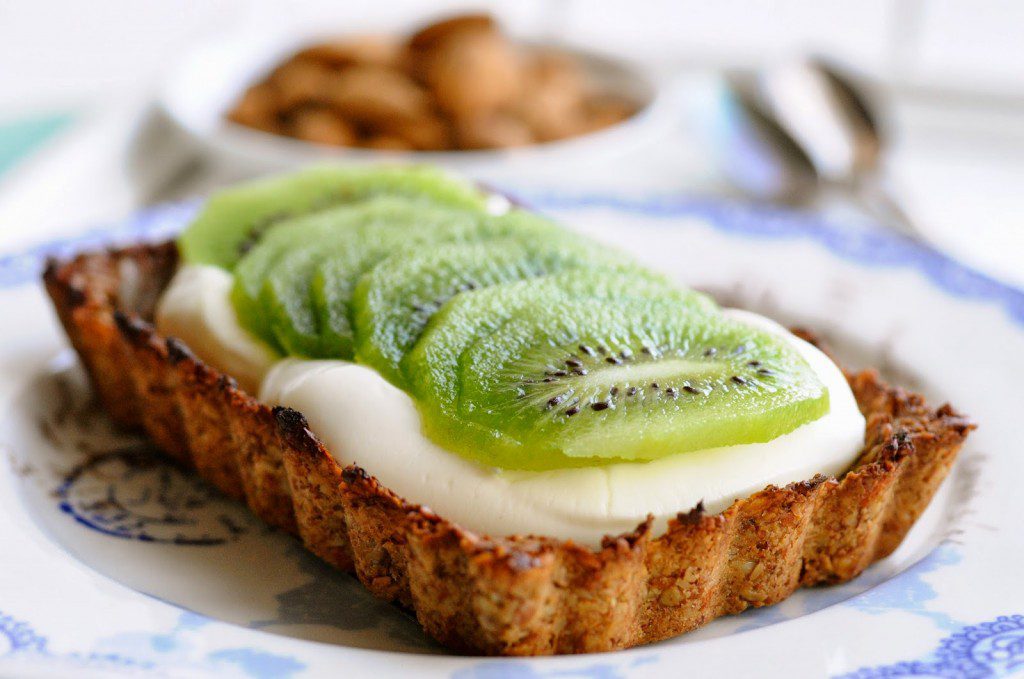 This is just one of the best healthy breakfast recipes I know. This breakfast pie is the perfect treat on a Sunday morning. I love to eat it with my freshly ground morning coffee, while reading the newspaper. Although, it could also be served as a dessert. You can choose any fruit you like for topping. Normally, I would top it with some slices of apple and cinnamon or fresh berries, but organic kiwis was the only fruit, I had at hand that day, even though it isn't very Nordic. The opposite can be said about the Icelandic yoghurt skyr, which I have used for this recipe. Skyr is fat free and is very high in protein, so it keeps you full for a very long time. If you're not able to find skyr in your regular supermarket, you can easily use any other kind of yoghurt. If you would like to try out a healthy cake recipe this should be the one.
Healthy Breakfast Pie with Yogurt & Kiwi
3.5 oz. (100 grams) ground almonds
1.8 oz. (50 grams) sunflower seeds
1 heaping tbsp. coconut oil
1 tsp. cinnamon
1 small very ripe banana (approx. 2.6 oz. peeled)
4 heaping tsbp. Greek yogurt (2%)
2 Kiwi (sliced (Try with wild berries…))
Preheat oven to 200 degrees (390 °F)

Put all the ingredients in a food processor, except yoghurt and kiwi, and blend until combined.

Grease two small cake tins with coconut oil and spread the batter into the two pans evenly.
Use your hands to press the dough around the edges so you get a fine, uniform bottom.
Bake in preheated oven for approx. 15 minutes.

Cool completely and top with yogurt and kiwi. Yield 2 small pies.