These chickpea flatbread with Icelandic salmon are a perfect appetizer. They taste incredibly good and you are always hungry for one more! The chickpea flatbread has a layer of cream cheese on top and together with the salmon, apples and red onion it is a perfect match.
The salmon is brought home from Iceland and it's a wild salmon. I always prefer the wild salmons, since I am convinced that they have lived a more pleasant life than the farmed salmons. The wild salmon is more expensive but I think it's worth the money.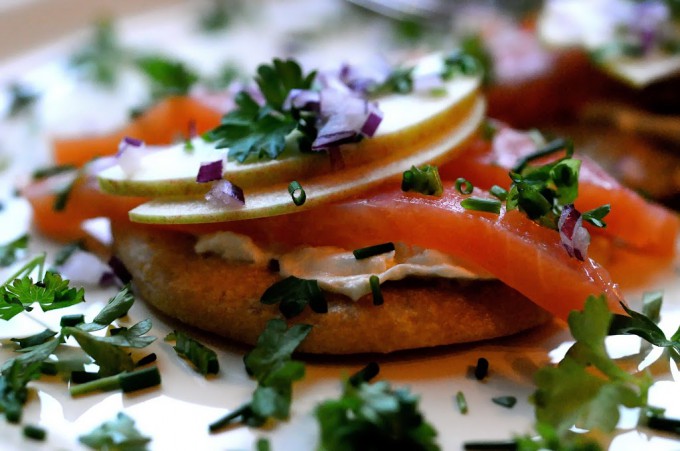 Flat Bread with Icelandic Salmon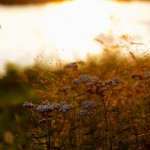 3.5 oz. chickpea flour
0.4 cup water
2 tbsp. olive oil
pinch salt
olive oil for frying
smoked Icelandic salmon
cream cheese
apple
red onion
chives
parsley
Combine chickpea flour with water, olive oil and a pinch of salt. Mix thoroughly to the consistency of pancake batter. Fry the batter in a pan with olive oil until golden brown.
Slice the salmon and apples in appropriate slices. Layer on top of the flat bread, cream cheese, salmon and apple slices on top. Garnish with finely chopped red onion, parsley and chives and serve. Yield 8 servings.
Chickpea Flatbread
Another thing that I really like are these chickpea flatbread. Chickpea flour is a great alternative to normal wheat flour. It is low carb and has a very unique taste, which I am a huge fan of. It's also high in protein, so here you get a healthy and tasteful appetizer.
I have used chickpea flour  many times before to make thin pancakes that I've filled with lots of veggies, feta cheese and chicken and it was great. Actually you could fill them with everything and they would taste great. Try for example to substitute your tacos with thin chickpea pancakes, when you are making mexican food. It's reaaaaally good! In fact, I just love the possibilities that the chickpea flour creates for making yourself a low carb and fully satisfying meal.