These spelt crackers are super easy to make and are the perfect snack for pre-dinner drinks. Top it with some pesto or some cheese and there you have it! I'm sure your guests will love it.
I've actually got a hard time trying not to eat them all, whenever I make a batch of these, because they are just perfect for when you are feeling just a tiny bit hungry or just when you are in the mood for snacking, which happens quite a lot in my case.
Spelt crackers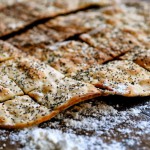 14.1 oz. (400 gr.) spelt flour
1.25 cup (3 dl.) water
1 tsp. salt
flour (for kneading)
poppy seed
sesame seed
sea salt flakes
Preheat oven to 435 °F

Lightly flour a dry surface.

Combine flour with water and salt, until forms a dough like consistency. Form into a ball and transfer to the floured surface and knead the dough until smooth.

Divide the dough into three pieces and roll each piece out thinly into a large square. Place each piece onto a baking sheet lined with parchment paper and brush with water.

Sprinkle salt, sesame seeds and poppy seeds to taste, and cut into small squares being careful not to cut completely through.

Bake for approx. 10 minutes until it is brittle. The previous scoring should give you a guide on where to break into small crackers.
Spelt Crackers with Smoked Cheese
I love to eat these spelt crackers with the very popular Danish cheese called rygeost. The first word means smoked and the second word cheese. It's probably one of my favorite foods from Denmark. It's soft, smooth, has the right amount of fat (10 %) and most importantly it has the most amazing smoked flavor. I normally serve the smoked cheese appetizer with radish and maybe some chopped chives. If you ever get a chance try it out.