These meatballs with curry sauce are sort of a national dish here in Denmark. I don't think that you will find any family in Denmark that haven't heard of or made this dish. It's an all time favorite among children but grown ups love it as well. I know many adults who could just eat these meatballs with curry all the time. And it is good! I love it too and actually make it quite often.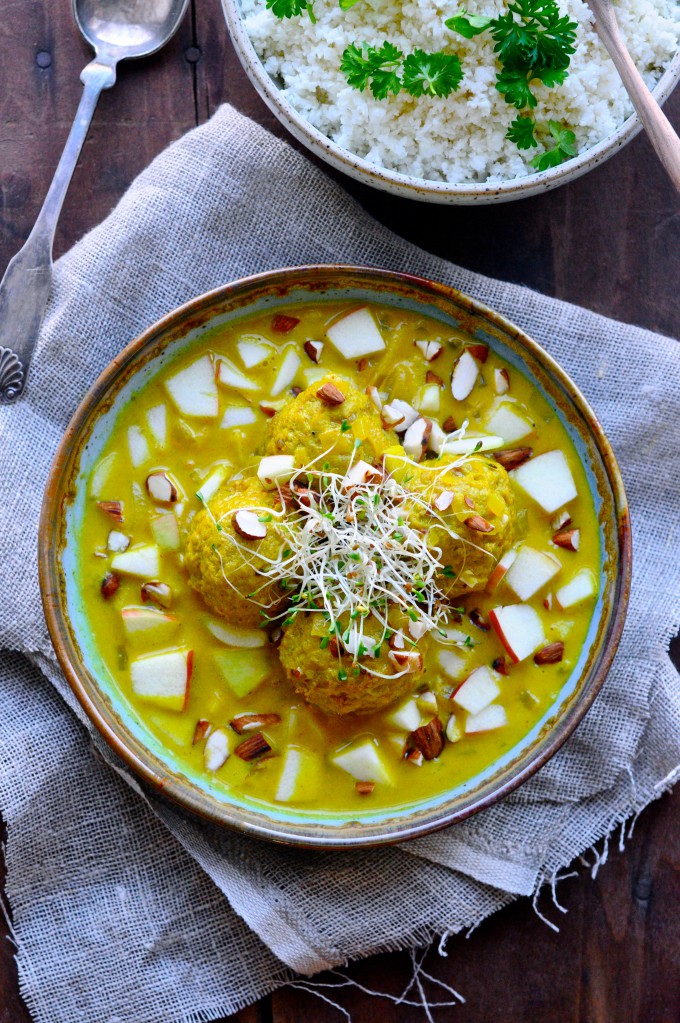 In general, we eat a lot of pork here in Denmark. It is actually also one of our biggest export markets and about 90 per cent of the Danish pork gets exported to other countries. No wonder that some of our most popular dished in Denmark includes pork! Another favorite dish is for example the pork roast with crackling that  we eat for christmas or just the regular meatballs that we typically eat with potatoes and gravy.
Traditionally the curry sauce is made with a roux sauce that contains milk, flour and butter. But I have made the dish a bit easier and healthier by substituting the traditional curry sauce with a sauce made with organic coconut milk. By the way, if you haven't tried the difference between organic and regular coconut milk, I suggest you give it a try! I think there is a great difference in taste with the organic version being much more creamy and smooth as silk. The coconut milk brings a perfect sweetness and creaminess to the sauce and I actually never make the traditional version anymore, since this has definitely become my favorite.
I have served these meatballs with some cauliflower rice. Cauliflower rice is simply just raw cauliflower that has been chopped finely in a food processor until it resembles rice or maybe it's more like couscous but either way it tastes good and it is super healthy. Most people eat these meatballs with white parboiled rice, but since I mainly eat low carb or food with slow carbohydrates I never choose this option. Instead I choose a healthier option like for example the cauliflower rice or:
Pearl barley with apples, peanuts and sun dried apricots
Whole rye with finely chopped fresh coriander
Oven roasted cauliflower with chickpeas and sultana raisins
Curry Meatballs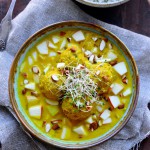 14.1 oz. ground pork
1 egg
1 onion (grated)
0.2 cups milk
0.2 cups rolled oats
1 tsp. salt
freshly ground pepper
1 onion (finely chopped)
butter
2 tbsp. medium hot curry
1 tsp. sugar
1 tsp. salt
1.6 cups coconut milk
1 apple
toasted almonds
Extra pieces of apple
In a large bowl, combine pork, egg, grated onion , milk and oatmeal and salt and freshly ground pepper (to taste).
Hint: it is a good idea to mix the meatball mixture with your clean hands as it will incorporate it better; remember to remove all jewellery first.
Shape the mixture into small meatballs and cook them in a pot of lightly salted water until they are ready fully cooked. Drain and set meatballs aside.
Sauté onion in butter until golden, add curry. Add the coconut milk and season with salt and sugar. Add apple and meatballs and heat through. Serve with toasted almonds and extra pieces of apple. Yield 3 servings