I just can't get enough of that K A L E and therefore I had to share this easy kale salad recipe with you. I know that it wasn't more than two days ago that I shared this kale salad with beets but I hope you don't mind. Maybe some of you are even as big a kale fan as I am and then I'm sure you won't!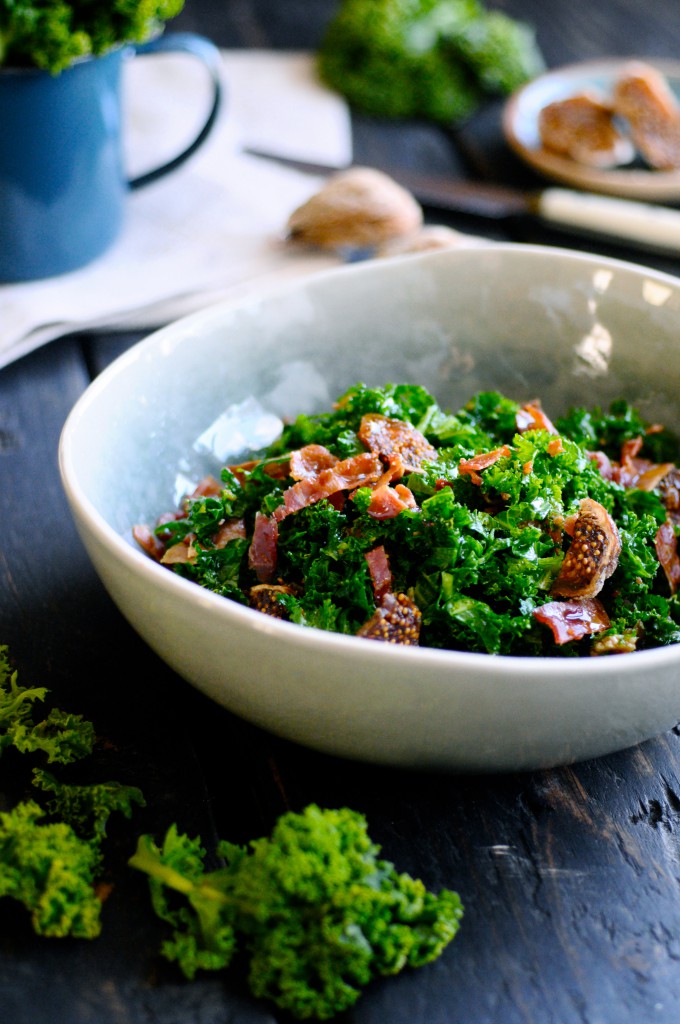 This kale salad includes a very special ingredient… can you guess what? It's nothing fancy or superfood-like but it's just that one ingredient that makes the whole difference! Crispy, salty and perfectly greasy.
You've probably guessed it (or scrolled down to look at the recipe!) – B A C O N!
Kale and bacon are simply just a match made in heaven. You can't really go wrong with this combo and especially not in company with a nice Dijon mustard dressing and sweet figs.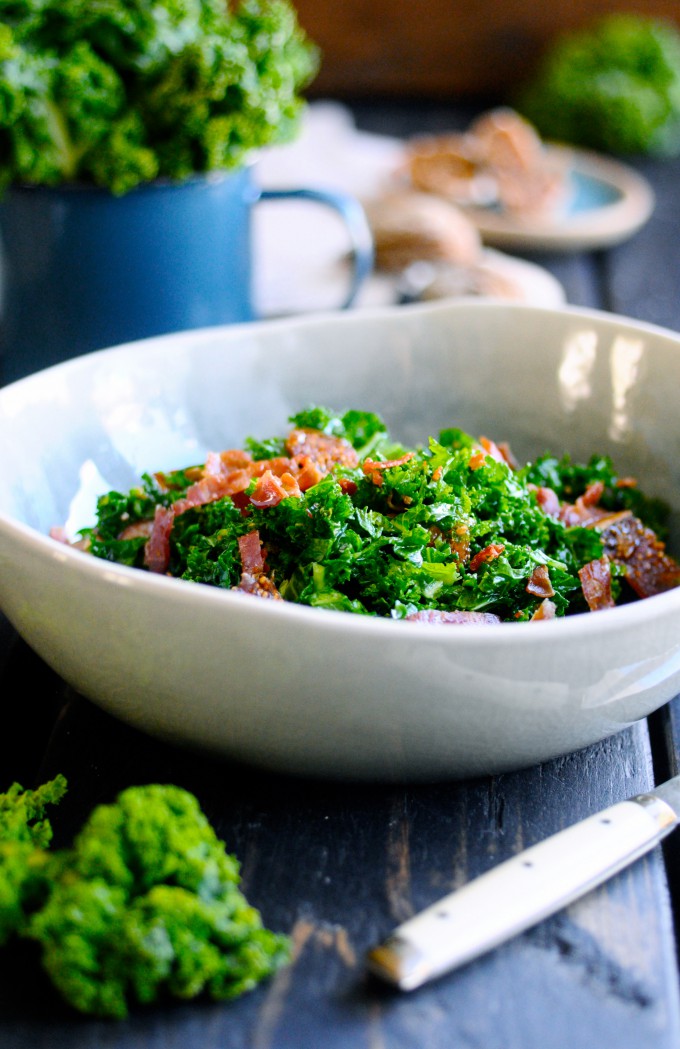 Easy kale salad recipe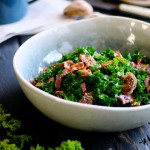 The best Easy kale salad recipe – I make this over and over again
7 oz (200 gr.) very finely chopped kale (make sure you only use the leaves that are stripped of the stems )
3.5 oz (100 gr.) slices of bacon
4-5 dried figs
1 1/2 tbsp. olive oil
1 tsp. Dijon mustard
1 tsp. agave syrup or acacia honey
1 tsp. apple cider vinegar
Freshly ground pepper
Optional! Fried eggs
Start by making the dressing.
Mix the olive oil with Dijon mustard, agave syrup and vinegar. Pour it over the the finely chopped kale and mix well.
Place the bacon slices on a baking sheet with baking paper and bake them in the oven until they are nice and crisp. Put the crispy slices onto a piece of paper towel to absorb some of the excess fat. Cut it afterwards into very small pieces.
Chop the figs coarsely.
Mix the chopped bacon and figs with the kale salad and serve the salad as a side dish to meat or even for breakfast with a fried egg on top. It's really, really good!

An easy kale salad recipe for breakfast
I've actually eaten this kale salad for breakfast a few times with a fried egg on top and it's the best way to start the day! Lots of fibres and protein and a minimal amount of fast carbs. Perfect! Plus it'll keep you full for a loooong time. So, goodbye cereals (at least for a while) and HELLO kale!