I just love KALE and this kale salad with beets and sunflower seed butter is an all time favorite of mine. I love kale so much that when it's in season here in Denmark I often eat it for breakfast, lunch and dinner on the same day!
Unfortunately the kale season has just ended in DK and you'll have to hurry, if you want the last batch of organic Danish kale in the supermarkets around here. I've stashed some in my fridge, so I'm good for at least a couple of days!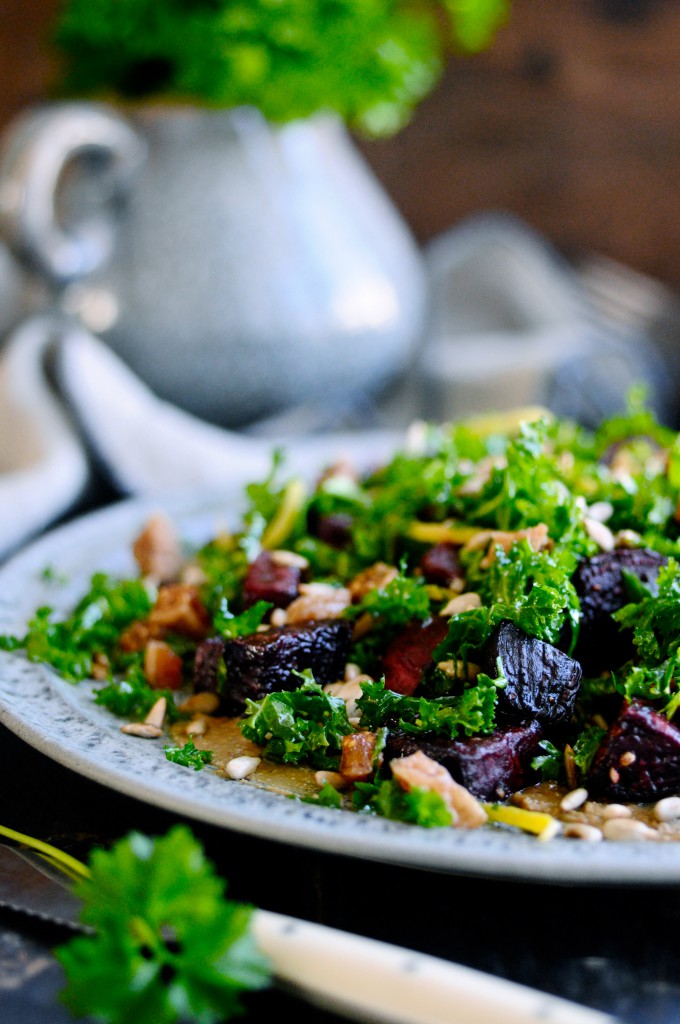 Kale salad with beets and a very special ingredient!
This kale salad is quite special due to one very important thing – the sunflower seed butter! The combination of the slightly salted butter, the sweet baked beets and the crispy kale is just amazing. You can easily make the sunflower seed butter yourself (just YouTube it and you'll finds loads of how to videos), however, I've cheated and used a storebought one from my favorite organic supermarket.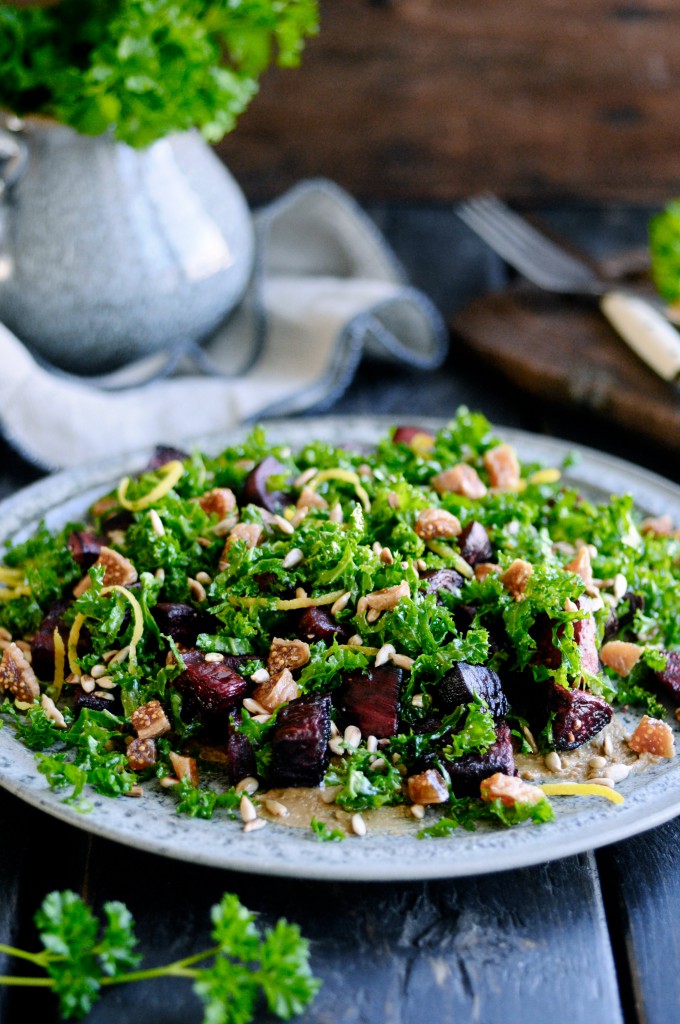 I had this kale salad with beets for dinner and didn't really feel the need to include meat. Actually, I've more or less cut back on eating meat. Not because I don't want to eat meat anymore but rather because there are so many beautiful veggies out there that are just waiting to end up on my plate. It just boosts my energy and makes me happy, when I'm eating a colourful plate of vitamins, antioxidants and lots and lots of good fibres.
If you are in the mood for upgrading this salad, I would imagine that a little goat cheese would be just perfect on top of this healthy salad. And how colourful wouldn't it be with slices of creamy white goat cheese together with the green kale, yellow lemon and purple beets? Just saying!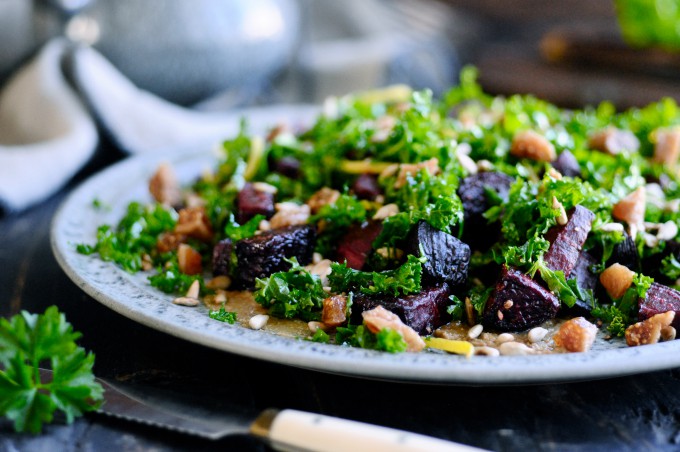 Kale salad with beets and sunflower seed butter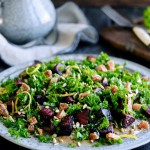 Kale salad with beets and sunflower seed butter – this salad will impress your guests!
17.6 oz (500 gr.) Peeled beetroot
Salt
Pepper
Olive oil
2.6 oz (75 gr.) rinsed, finely chopped kale
Zest of 1/4 organic lemon
1 tbsp. Olive oil
1 large tbsp. finely chopped fresh parsley
2 tbsp. roasted sunflower seeds
2-3 dried figs
Sunflower seed butter (or any other seed or nut butter)
Cut the beets into small cubes and toss them with olive oil, salt and pepper.
Put the beets on a baking sheet with baking paper and bake them in the oven until nice and tender, but still with a little bite. Approximately 25 min. at 400 F (200 C).
Mix the finely chopped kale with lemon zest and 1 tbsp of olive oil and put in the finely chopped parsley as well.
Slice the figs into small bites and fry the sunflower seeds shortly on a dry pan until lightly golden.
Mix the kale salad together with the baked beetroot.
When serving, spread a layer of sunflower seed butter on the plate. Place the kale salad on top and sprinkle with toasted sunflower seeds and small pieces of dried figs.
Finish with a generous drizzle of good olive oil and a little extra lemon zest as well as a good sprinkle of freshly ground pepper.