This homemade granola with apple and cinnamon is my all time favorite granola. Why? Because it is healthy and you get to eat a sweet, crunchy and fulfilling breakfast that actually taste like a dessert! I have replaced the refined sugar with a nice and perfectly sweet apple sauce, and as you might already know by now from skimming the text, it is without any kinds of grains.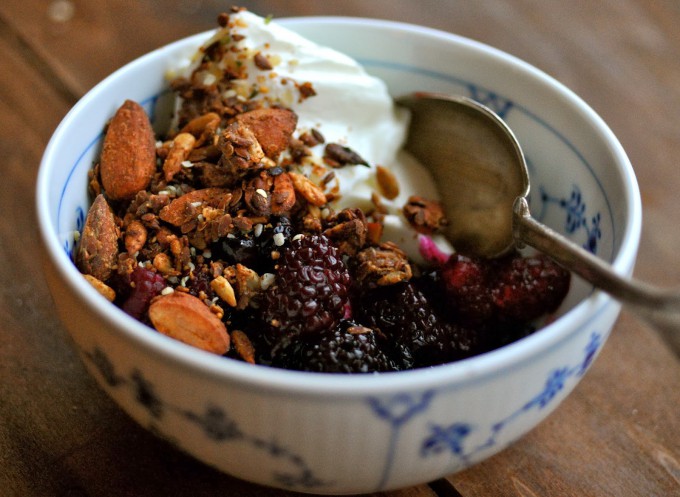 Homemade granola for a grain free diet
I do eat grains – whole grains that is – during the week but sometimes it is nice to just skip it for a time. I do that sometimes, when I feel like eating a more light diet with lots of protein from fish, eggs and meat and lots of lots of vegetables.
This grain free homemade granola tastes great together with some yoghurt or maybe even the Icelandic yoghurt skyr. Top it with fresh berries and you have the best brekkie. I have also enjoyed it with some milk and slices of banana. However, I warn you. It's rather addictive and you will probably run out of granola in no time.
Homemade Granola with Apple & Cinnamon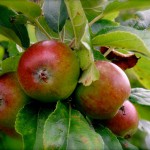 0.6 cup (100 gr.) whole almonds
0.3 cup (50 gr.) flaxseed
0.3 cup (50 gr.) sunflower seeds
2 tbsp. hemp seeds (optional)
2 tbsp. melted butter
3 tbsp. applesauce
½ tsp. vanilla powder (without sugar)
1 tsp. cinnamon
Chop the almonds coarsely. Mix them with flaxseed and sunflower seeds.
Add applesauce, melted butter, cinnamon and vanilla powder and mix everything together well. Pour the mixture onto a baking sheet lined with parchment paper or wax paper. Spread the mixture evenly in a thin layer.
Bake for approx. 15-20 min. or until golden brown.
Allow to cool slightly and add the hemp seeds. Serve with low fat sour cream and berries.