I just baked a batch of these low carb bread rolls with hazelnut flour, apple and cinnamon and now there is a wonderful smell of freshly baked buns in my little kitchen or actually my whole apartment for that matter cause it's not that big, but can you think of a better smell than the smell of bread coming right out of the oven? I can't.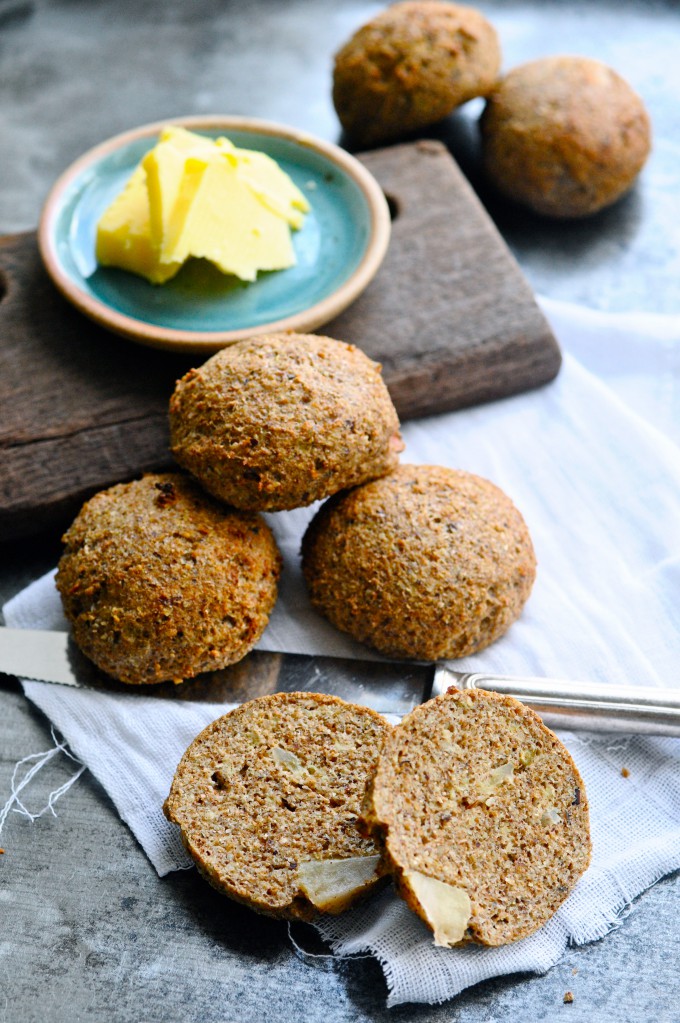 These low carb bread rolls doesn't contain any refined flour or refined sugar for that matter. I mainly eat low carb and I rarely eat normal bread made with wheat flour, so these hazelnut bread rolls are a well known guest in my kitchen. If I do eat bread, it's mostly rye bread – the Danish favorite – or if I'm out for dinner and the restaurant serves some irresistible bread. My favorite restaurants here in Copenhagen do, so I make "carb"  exemptions once in a while.
Low Carb Hazelnut Rolls with Apple & Cinnamon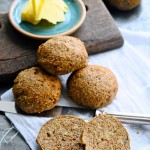 2 eggs
3 oz. applesauce
2 tbsp. low fat sour cream i.e. the Icelandic yoghurt skyr
1.8 oz. hazelnut flour
0.9 oz. wheat bran
2 tbsp. Psyllium Husk Fiber
1 tsp. baking powder
1 tsp. cinnamon
¼ tsp. salt
Preheat the oven to 390 °F.
Stir the eggs with applesauce and Skyr or yogurt.
Add the dry ingredients and stir well.
Form 6 rolls using a spoon, as the dough is a bit wet, and place on baking sheet.
Bake for approx. 20 minutes until golden brown.
Yield 6-7
I have added some apple sauce to these low carb bread rolls to give them a little sweetness. I had a few Danish apples that were overripe and needed to be used, so I quickly turned them into a apple sauce without adding any sugar cause the apples were sweet enough.
The applesauce goes perfectly together withthe hazelnut flavor and the cinnamon, and I would highly suggest that you eat these bread rolls together with some cheese or just some butter, when they come right out of the oven. It's the best!