I love to develop healthier versions of well known recipes. When it comes to cakes or desserts, I always try to replace the refined sugar and wheat flour with healthier alternatives, or just reduce the amount. In general, I try to avoid the fast carbohydrates such as rice, flour, potatoes and pasta and replace them with slow carbohydrates such as vegetables rich in fibers and of course the Nordic darling, grains.
Refined sugar free Madeleine cakes
These Madeleine Cakes are also made a bit more healthy. I have replaced the refined sugar with apple sauce and finely chopped apricots, and replaced flour with almond flour. They taste wonderful and they are sweet enough for me. However, you can always add a tbsp. of agave syrup if you'd like them a tad sweeter. You can also add a teaspoon of cinnamon, which gives the cakes an extra touch.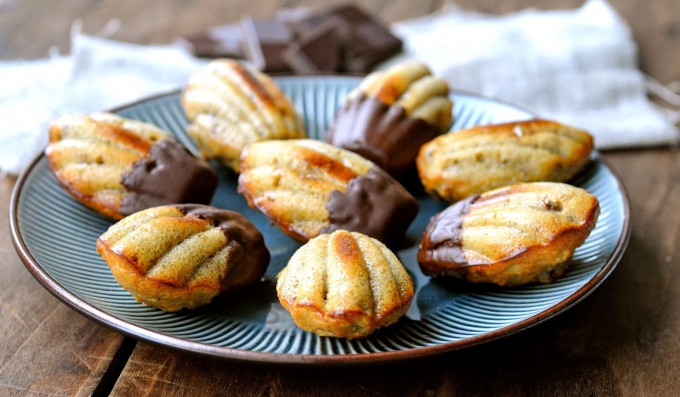 Madeleine Cakes with Almond flour, Applesauce and Apricots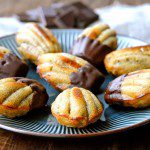 Healthy and refined sugar free Cakes with Almond flour, Applesauce and Apricots
2 eggs
1 ½ tbsp. coconut oil OR 1 tbsp. agave syrup
2 tbsp. apple puree
1.8 oz. 50 gr almond flour
1.8 oz. 50 gr. dried apricots, finely chopped
1 tsp. baking powder
¼ tsp. vanilla powder
70 % dark chocolate
Preheat oven to 350 °F
Mix the eggs, applesauce and coconut oil (or agave syrup).
Add the almond flour, baking powder, vanilla powder and finely chopped apricots.
Use two spoons to divide the mixture into madeleine molds.
Bake 20 minutes or until golden brown. Cool the cakes and dip them if in dark chocolate (optional). Yield 9 pieces.