Crispbread is a very common type of bread in the Nordic countries. In Sweden they eat it all the time and they have lots and lots of different variations. In Denmark we eat it a lot as well. This version is simple to make and contains no flour, so it is super healthy and filled with nutritious seeds. Try it with a slice of fresh cheese and some cherry or strawberry jam.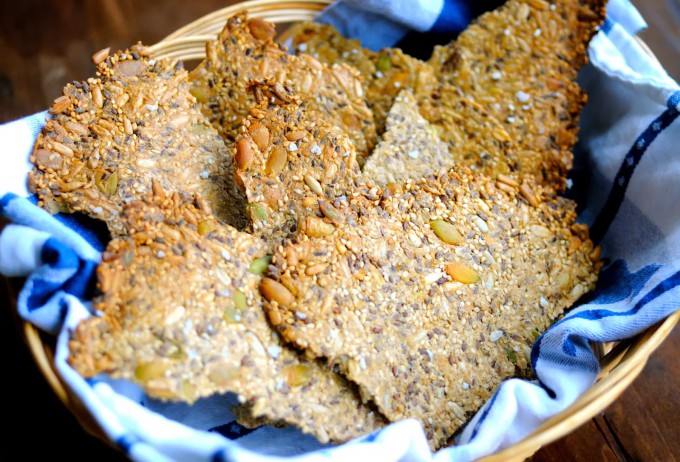 Crispbread with Flaxseed Meal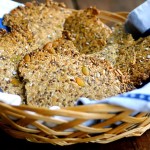 3.5 oz. sunflower seeds
3.5 oz. sesame seeds
1.8 oz. pumpkin seeds
1.8 oz.flaxseed
1.8 oz. flaxseed meal
¼ tsp. salt
2 eggs (small or medium)
0.9 oz. melted butter
Sea salt flakes
Preheat oven to 350 °F
Mix the dry ingredients (1-6) together. Add eggs, water and butter and stir well. The mixture should be slightly damp have a dough like consistency.
Form a ball and divide the dough into two parts.
With the first part, place onto a piece of wax paper on the kitchen table. Cover with another piece of wax paper and roll the dough out thinly between the two pieces of wax paper. Carefully remove the top layer of wax paper, so the rolled dough does not break. Carefully place the baking paper with the rolled out dough onto a baking sheet.
Repeat the same procedure with the second part.
Sprinkle with sea salt flakes.
Bake the 2 baking sheets in the oven for approx. 20 minutes or until they are golden brown in colour.
Break the cooled crackers in appropriate sizes and store it in a cake tin lined with a fresh piece of wax paper.