These wonderful little Madeleines with almond meal and apple sauce are the perfect (healthy) treat when you need a little sweet something to go with your coffee after a nice dinner. I love these almond cakes and I love the fact that they are refined sugar free, so you can enjoy them without all the guilt. Oh, and they don't have any flour in them either, which just double the benefits.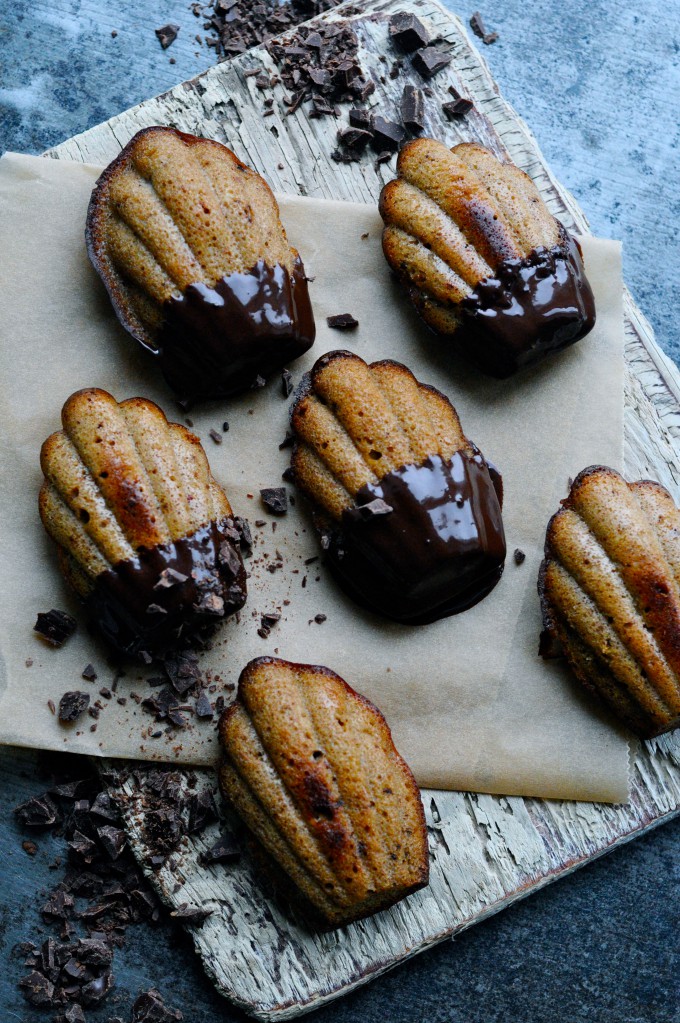 Madeleines with Almond Meal and Apple Sauce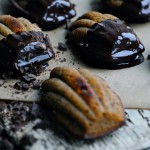 5.3 oz 150 gr. Applesauce
3.5 oz 100 gr. Almond meal
2 eggs
0.9 oz 25 gr. Coconut oil
2 tbsp. coconut palm sugar or cane sugar
1 tsp. baking powder
1 tsp. ground cloves
1 tsp. ginger
1 tsp. cinnamon
Dark chocolate 80 %
Mix apple sauce with eggs.
Mix the almond meal with coconut palm sugar, baking powder and all the spices .
Melt the coconut oil and let it cool a little. Mix it together with the dough.
Use two teaspoons to fill batter into the madeleine pan.
Bake the almond cakes for about 25 minutes at 350 f.
Let the almond cakes cool a bit and dip them in melted dark chocolate.

Madeleines with almond meal and apple sauce + all my favorite spices
I have added some of my favorite spices to these madeleines with almond meal like ginger, my all time favorite spice cinnamon and ground cloves. These spices work so great together with the sweet apple sauce and when you dip the baked madeleines in the melted dark and intense chocolate…oh my.
I made these a few days ago and I have to admit they were gone pretty fast! Luckily I have a new bowl full of homemade apple sauce in the fridge right now, so I guess I'll have to make a new batch tomorrow…what a shame!
These madeleines with almond meal and apple sauce only gets better after a few days in the fridge, so you can easily double the recipe.