This is a great broccoli pie with goat cheese. Right now broccoli are in season and you can get the most beautiful organic broccoli in Denmark at the moment. I always have broccoli in the fridge because you can use it for so many different things. One of my favorite ways to use broccoli is to finely grate it in a food processor, mix it with eggs and Psyllium seed husks and turn it into a broccoli pizza crust with my favorite topping on top. Sometimes, I also just grate the broccoli into a couscous-like texture and mix it with my favorite herbs and veggies and maybe some feta cheese. And then I have a dozen of other recipes that I use broccoli for that I promise to share with you here on Karla's Nordic Kitchen, but for now I can only recommend to try this broccoli pie with goat cheese!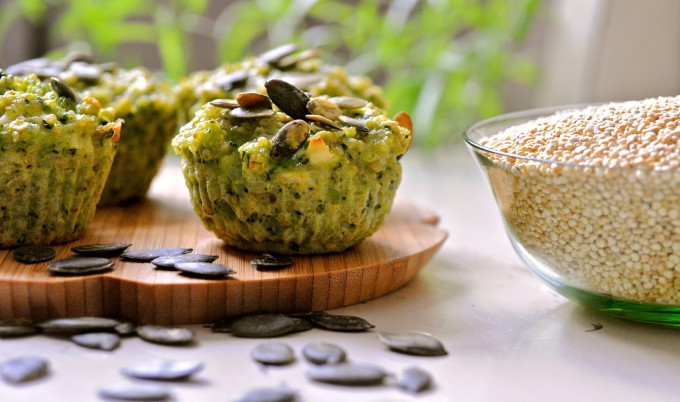 Quinoa is also one of all time favorite ingredients. These cute little seeds are gluten-free and high in protein and of course they taste great! I use them in salads or in pies like these mini broccoli pies with quinoa and goat cheese. I am actually about to bring these pies with me to the park in my picnic basket. The weather in Copenhagen right now is beautiful. We have had the most amazing summer in many years and I just love that we are able to enjoy our meals out in the open and fresh air. In general, I just love Copenhagen in the summer, where the parks are full of people, the streets are full of cyclists and everybody is walking around with a happy face and maybe even an ice-cream in their hand. If you ever come to Copenhagen, do it in the summer, it's beautiful here! Until you do, then you should try this mini Broccoli Pie With Goat Cheese, which I'm sure you will love!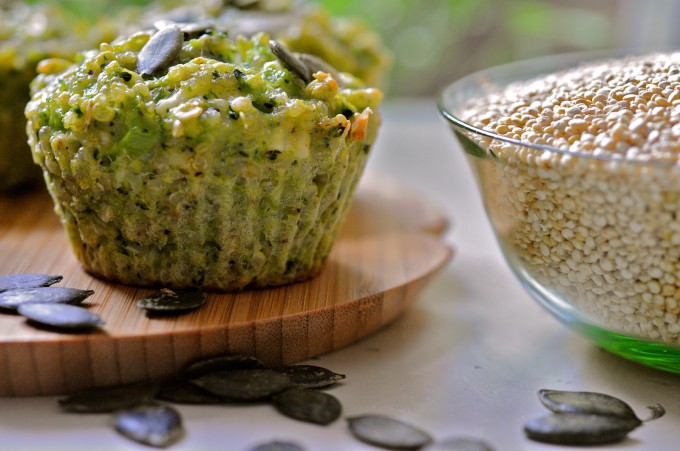 Mini Broccoli Pie with Quinoa & Goat Cheese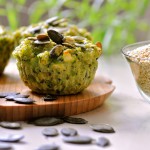 0.4 cups 1 dl. quinoa
0.8 cups 2 dl. water
5.3 oz. 150 gr. broccoli florets
3.5 oz. 100 gr. goat cheese roll
2 eggs
2 tbsp. rolled oats
½ tsp. salt
freshly ground pepper
pumpkin seeds
Preheat oven to 390 °F
Prepare the quinoa by rinsing well and cooking for approx. 15 minutes until all the liquid is absorbed.
Slice the goat cheese into small pieces and mix the cheese into the warm quinoa and stir well so that the cheese melts a bit and become delightfully creamy.
Add broccoli florets in a pot of salted boiling water and let them boil for approx. 4-5 minutes and drain. Let cool slightly. Chop the broccoli fine and mix in with the quinoa. Add eggs, rolled oats and salt and pepper to taste. Use a spoon to distribute the pie mixture into small molds.
Hint: silicone muffin tins work well, they do not need to be greased first.
If using a regular muffin tin, lightly grease before putting the filling in. Sprinkle with pumpkin seeds and bake for approx. 20 minutes. Serve hot with a pesto sauce and a little prosciutto or Parma ham (optional).
Yield 10 pies.