It's F R I D A Y night and the sun is shining here in Copenhagen. I just love summer and nothing beats the beautiful summer nights here in Denmark. This weekend is going to be all about blogging. I am gonna experiment with some new recipes of mine in the kitchen and take tons of pictures. And then I am planning to take a walk around my neighborhood and snap a few pictures that I wanna share with you here on the blog. I thought it could be nice for you too see, why I'm so in love with my city and not least my neighborhood Christianshavn.
And now lets talk about the recipe because this is another thing that i am totally in love with. I have been eating this sweet carrot bread the last couple of mornings and it's been the best start of the day. This sweet carrot bread smells so good, when baking in the oven and it's even better when you put it in your mouth. I highly recommend that you enjoy a slice of it with a nice layer of almond butter. It's the best! The bread is made with rye flour and has no added sugar. It is sweetened with carrots, blossom honey and apple sauce (also without added sugar), so it's super healthy and the best part of it is – it tastes almost like cake! Eat it with almond or hazelnut butter and some finely chopped extra dark chocolate and there you have it!

Sweet Carrot Bread with Rye Flour, Apples & Cinnamon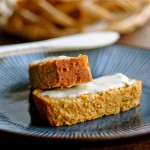 3.5 oz. grated carrot
3.5 oz. applesauce
1 tbsp. Skyr (similar to Greek yogurt)
2 eggs
2 tbsp. blossom honey
1.8 oz. coconut oil (melted)
5.3 oz. rye flour
1 tsp. cinnamon
1 tsp. baking powder
Almond butter
Preheat oven to 350 °F
Cut the carrots coarsely and put in a food processor and grate fine. Remove and put into a bowl. Add apple sauce, curds, honey and eggs. Melt the coconut oil and let it cool a little. Pour the coconut oil in the carrot mixture.
In another bowl, combine the dry ingredients, rye flour, cinnamon and baking powder, mix well. Add to the carrot mixture. Pour batter into a greased bread pan and bake the bread for approx. 40-45 minutes. Let carrot bread cool completely before slicing. Serve with almond butter or butter to taste.