If there is one thing that Denmark is known for, when it comes to the culinary world, it is Danish open faced sandwiches. The most traditional ones are with heering on top and maybe some homemade egg salad. Also fish filet with remoulade sauce is very popular.
A vegetarian version of open faced sandwiches
For this recipe, however, I've come up with vegetarian versions of the traditional Danish dish, which in general pretty much consists of just rye bread and different savory toppings. In this case, I've made two delicious green toppings to go on my homebaked rye bread. A creamy and flavorful curry chickpea salad with apple slaw and an even more creamy avocado-quinoa dip with cabbage, feta cheese and almonds.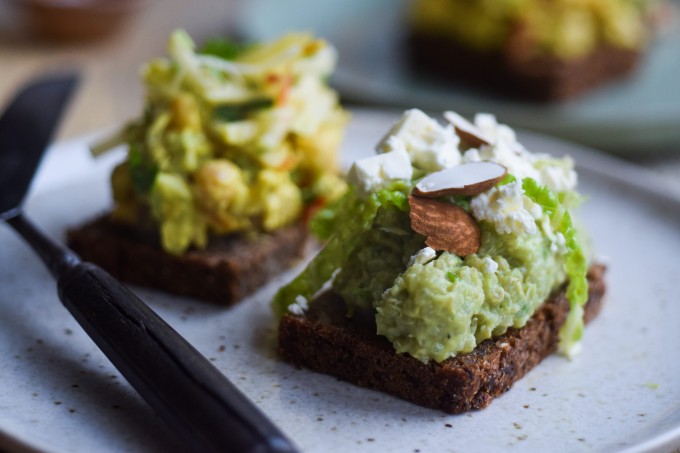 Danish Open Faced Sandwiches – Vegetarian Version
The most tasteful vegetarian version of the traditional Danish open faced sandwiches. Here you go:
Creamy curry chickpea salad with apple slaw
2 drained cans chickpeas
1 tsp curry powder
1/2 tsp cumin
3 tbsp creme fraiche
3 tbsp mayonaise
1/4 red bell pepper
1 stalk celery
1/2 red onion
salt
pepper
1 red apple
1 tbsp coarsely chopped fresh coriander
lemon juice
Avocado-quinoa dip with cabbage, feta and almonds
1 dl (0.4 cup) quinoa
2 dl (0.8 cup) vegetable broth
2 ripe avocadoes
1 tbsp finely chopped chives
salt
pepper
lemon juice
a couople of cabbage leaves
1/2 tsp dijon mustard
1 tsp olive oil
sliced almonds for garnish
crumbled feta for garnish
8 half slices rye bread or any other type of whole grain bread
Creamy curry chickpea salad with apple slaw
Pour chickpeas into a large bowl and mash them a bit with the back of a large soup spoon, so some of the chickpeas become mashed while others are still intact. It gives a nice texture to the salad.

Stir creme fraiche and mayonnaise in. Add curry and cumin and season with salt and pepper.

Cut bell pepper and celery into small pieces and add to the salad. Chop red onions and also add.

Slice the apple on a mandolin and toss it with lemon juice, so it does not turn brown and mix with coarsely chopped coriander.

Place the chickpea salad on 4 slices of rye bread and decorate with apple slaw on top.
Avocado-quinoa dip with cabbage, feta and almonds
Start rinsing the quinoa in cold water. Drain and boil the quinoa under a lid until all the vegetable broth is absorbed. Allow to cool completely.

Mash the avocados with a spoon and stir together with the chilled quinoa.

Add finely chopped chives and season with lemon juice, salt and pepper.

Cut the cabbage into slices and toss them with dijon mustard and olive oil.

Place the avocado quinoa dip on 4 half pieces of rye bread and place cabbage salad on top. Garnish with crumbled feta and halved almonds.
Perfect on the lunch table
These alternative Danish open faced sandwiches would be really pretty on your next family lunch table! I guarantee you that you won't miss the meat or fish. I've tried my best still to achieve the Umami flavor that normally comes from meat and I think I did quite ok. What do you think?