I made these pumpkin pancakes with christmas spices the other day and I love the combination of the sweet pumpkin and all my favorite christmas spices such as cloves, cinnamon and ginger.
Instead of using refined flour I've used rye flour to make them a bit healthier adding more fibres to the pancakes. As goes for the chocolate, I've used some delicious milk chocolate with a high percentage of cocoa. The higher the better and this ones contains 55 percent cocoa. It has an intense taste of cocoa but still remains that milky creaminess that I just love.
Also I served the pancakes with hazelnut butter instead of syrup to make them an even healthier choice for the sunday mornings.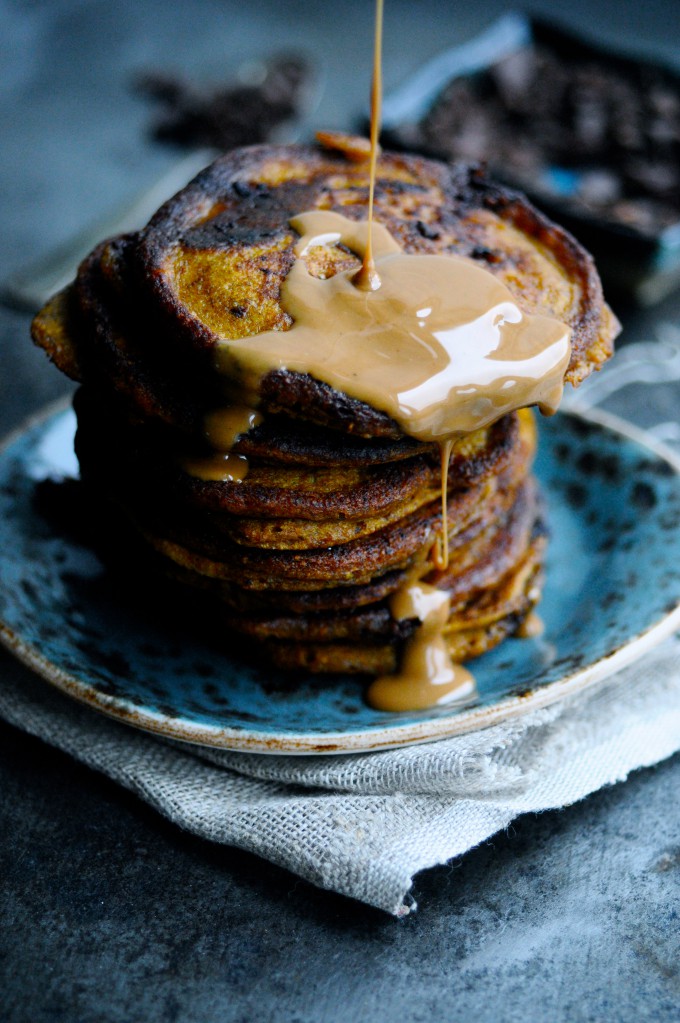 Pumpkin Pancakes with Christmas Spices
In Denmark, it's not possible to buy pumpkin puree on cans. I actually haven't seen it anywhere. I know it's sort of a standard product in American supermarkets, as Americans use it for pumpkin pies but it Denmark it's nowhere to find… unfortunately because it would be so much easier to make a lot of recipes.
Anyway these pumpkin pancakes with Christmas spices are made with (over)cooked pumpkin that are easy to mash and mix with all the liquid ingredients.
I've actually also made a little video about these pumpkin pancakes with Christmas spices. It's in Danish but maybe you find some inspiration in it despite the strange language! Actually I'm going to start making cooking videos about Nordic food in English as well and upload them to my You Tube channel. So stay tuned!

Pumpkin Pancakes with Christmas Spices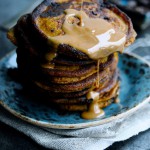 3.5 oz. 100 gr. Peeled, cooked and cooled pumpkin cubes ( perfect if they are a bit overcooked)
0.4 cups 1 dl. unsweetened almond milk (or ordinary milk)
2 eggs
Approximately 2.1 oz. (60 gr. Rye flour)
1.7. oz. 50 gr. Coarsely chopped milk chocolate
2 tsp . baking powder
1 tsp. cinnamon
1/2 tsp. ginger
1/2 tsp. ground cloves
2 tbsp. coconut palm sugar or cane sugar
1 small pinch of salt
Mix the cooked pumpkin with milk in a bowl with a hand mixer until you have a fine mass.
Add the eggs and whisk it all together.
In another bowl mix rye flour with cinnamon, ground cloves, ginger , baking powder, sugar and salt.
Mix the flour mixture with the pumpkin mixture and mix well together .
Melt the coconut oil in a hot pan and fry small pancakes in a few minutes on each side.
Serve for example with nut butter (I used hazelnut butter) and a little bit of extra chocolate or acacia honey .