If there is one vegetable we Danes eat a lot during winter, it's red cabbage. During winter many families enjoy the warm pickled red cabbage together with for example a roast pork with crackling or a roast duck. But a salad made with freshly shredded red cabbage is also a popular dish. Especially when you feel like eating a healthy winter salad like I often do these days.
Very often the red cabbage salad is mixed with apples and some kind of nuts. I've done the same in this recipe. However, I've added some extra ingredients to make it a bit more special like goji berries and then spiced it up with some freshly grated ginger.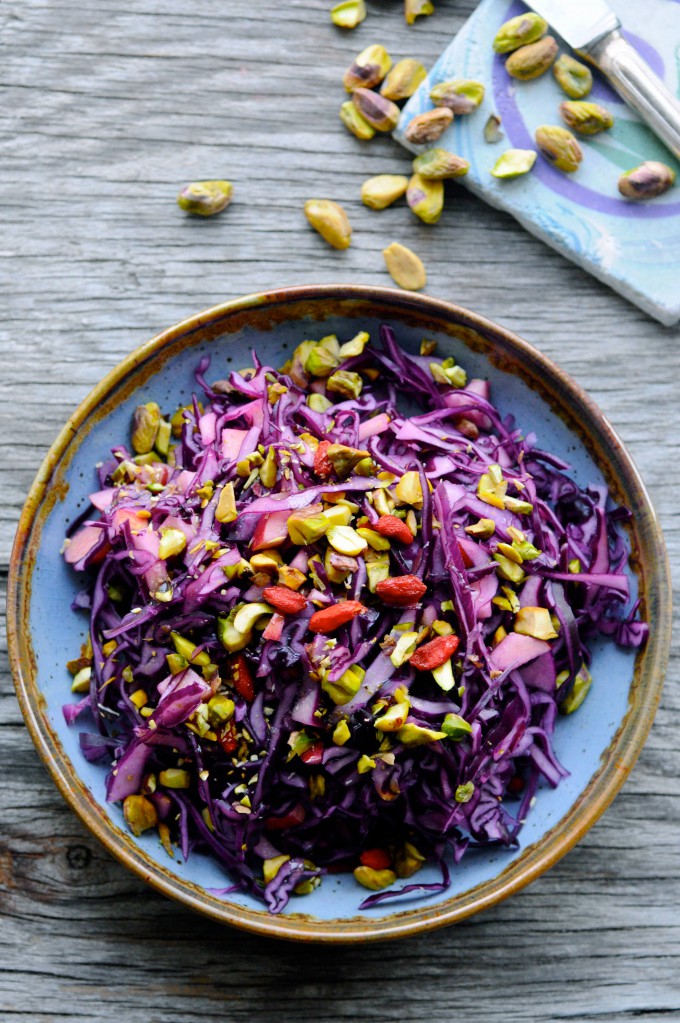 Red Cabbage Salad with Ginger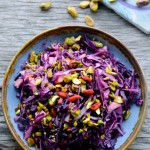 17 oz. 500 gr. Red cabbage
1 tbsp. apple cider vinegar
1 tsp. agave syrup
1 tsp. finely grated fresh ginger
2 tbsp. Goji berries
1 apple
2 handfuls of unsalted pistachios (or almonds , hazelnuts or walnuts)
Shred the red cabbage finely on a mandoline, or cut it into thin strips .
Mix apple cider vinegar with agave syrup and finely grated ginger.
Toss the dressing together with the shredded red cabbage.
Chop the apple into fine cubes and mix it with the red cabbage along with the Goji berries and coarsely chopped pistachios.
The ginger really makes this salad special and I love the combination of the bittersweet cabbage, the sweet apple and goji berries and the sharp ginger.
This red cabbage salad with ginger, goji berries and pistachios is perfect together with pork. But it would also work great with some kind of fish like for example a panfried redfish or a zander. Imagine a beautiful piece of fish with crisp skin on this salad, wouldn't that look and taste great? I definitely think I'm gonna try that the next time I make this cabbage salad.