I know… Christmas is over, but that doesn't stop me from still enjoying all my favorite Christmas spices. This time in a homemade musli with rye flakes.
I love to put spices in my muesli. It really gives the muesli that extra twist that makes the classic breakfast meal a bit more special. I've mixed the rye flakes with puffed quinoa, almonds and dried apple cubes but you can add whatever you like. Dried apple however is just so good together with all the Christmas spices as cardamom and cloves, so I wouldn't leave that out.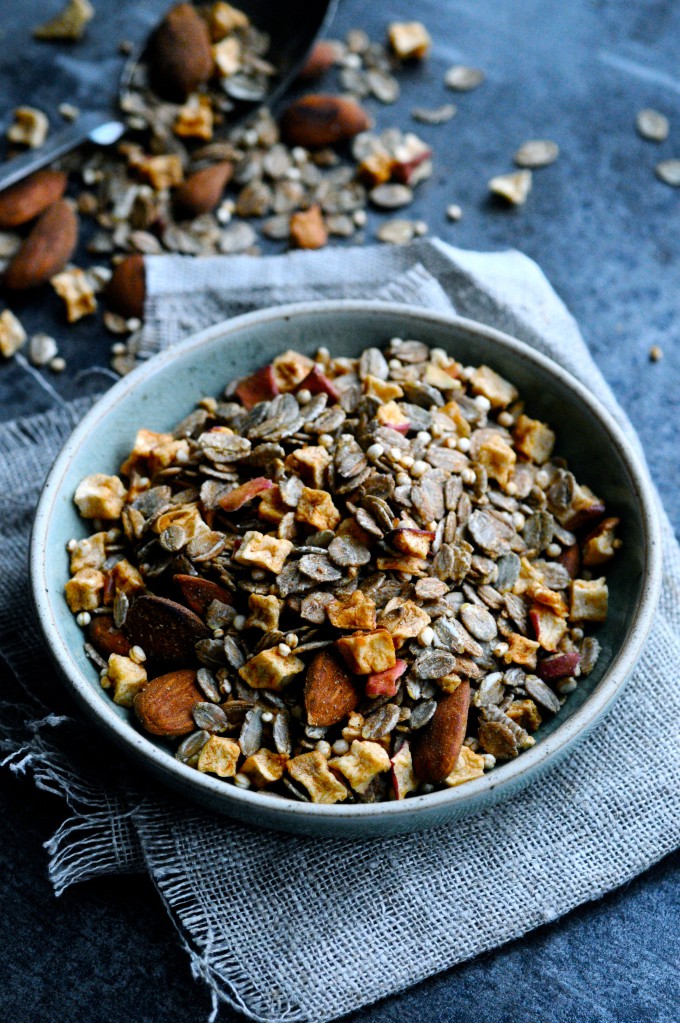 Muesli with Rye Flakes and Christmas Spices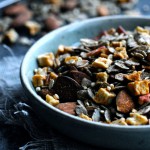 7 oz. 200 gr. Rye flakes
2 large tablespoons of coconut oil
1 tbsp . cinnamon
1 tsp. ginger
1 tsp. cardamom
1 tsp. ground cloves
3.5 oz. 100 gr. Whole almonds
0.8 oz. 25 gr. Puffed quinoa
1.7 oz. 50 gr. Dried apple cubes
Start by toasting the almonds in a dry pan over low heat until they get a little bit of color.
Remove them from the pan and place on a plate, while you prepare the rest of the muesli.
Melt the coconut oil in the pan and add rye flakes and all the spices.Toast the rye flakes for a few minutes and stir well.
Take the rye flakes off the heat and add toasted almonds, puffed quinoa and apple cubes.
Let the muesli cool completely before putting it in an air tight container.

Muesli with rye flakes – One Christmas recipe out of many
It's not the first time this vinter that I've created recipes with traditional Christmas spices. I've done it a few times over the last few weeks. See for example my pumpkin pancakes with Christmas spices or my rye porridge with Christmas spices. And now we're at it I've also made these healthy Christmas date balls that I can really recommend you try eventhough it's not the holiday season anymore.