When I eat bread, it's 99 percent of the time rye bread. In Denmark, we are known for our rye bread and we normally eat it for lunch, when making open sandwiches. Rye is high in fibre and therefore keeps you full for a very long time.
Rye bread keeps you going for a looong time
When I eat these rye bread muffin in the morning, I am not hungry until late in the afternoon, which makes it perfect for those days, where you are constantly on the go and don't have time to eat a proper meal sitting down.
For this recipe I used a high quality dark chocolate with a very high percentage of cocoa (80 percent), and I enjoyed them with a layer of almond butter, which is highly recommendable!
Read more about rye here

Rye Bread Muffins with Chocolate & Apricots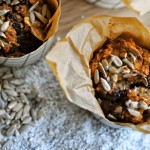 7.1 oz. whole grain rye flour
3.5 oz. spelt flour
1.8 oz. five grain mix
1.8 oz. barley flakes
1 tsp. salt
2 tsp. baking powder
1.25 cups yogurt
0.8 cups water
3.5 oz. good dark chocolate
dried apricots
sunflower seeds or walnuts for garnish
Mix the dry ingredients together.
Add water and yogurt and knead well with a spoon.
Add the coarsely chopped chocolate and dried apricots to taste. Stir well.
Prepare a large muffin tray lined with parchment paper cut to size. Put batter in paper baking cups using 2 spoons and sprinkle with sunflower seeds or walnuts to taste Hint: if you have an ice cream scoop, this will make it much easier and ensure consistency.
Bake at 390 °F for approx. 30 minutes. Yield 10-12 muffins.