When you look into a Dane's lunchbag, you'll probably most likely find an open faced sandwich. It is really the most popular food that we eat for lunch here in Denmark. And no wonder since it is super healthy, full of whole grains and super tasty.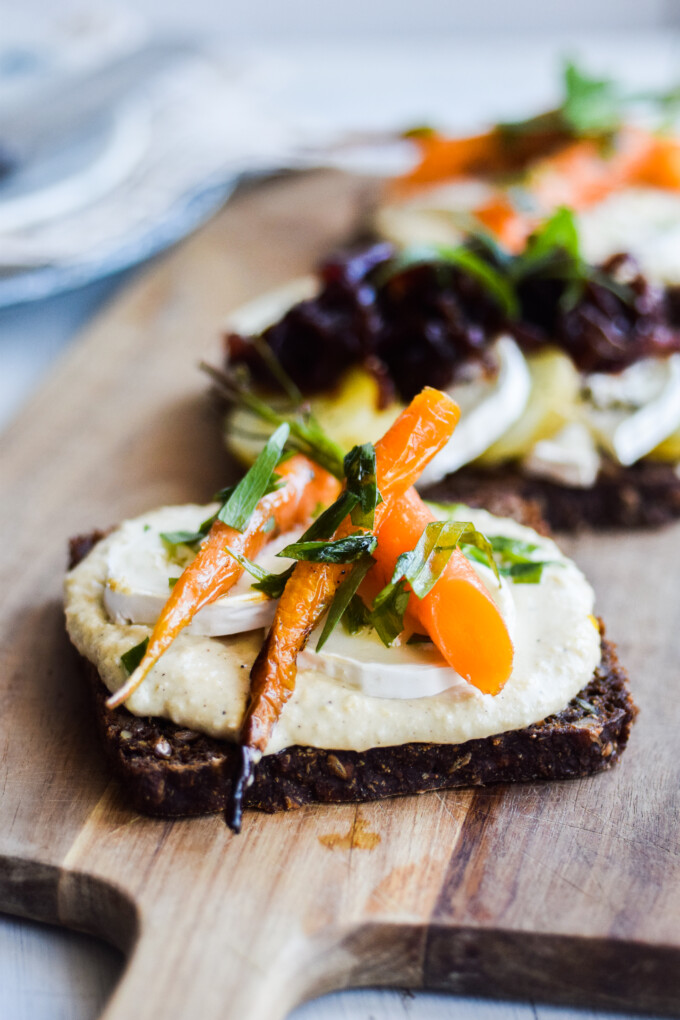 Typically you eat an open faced sandwich with some meat or fish topping but in this post, I want to to show how delicious open faced sandwiches also can be without the meat. So here are my two best vegetarian options.
Why you should try a vegetarian version
Vegetarian food is really trending these days – I know, because I just wrote a cookbook about green breakfast – and there is a reason for that because in the green vegetarian kitchen, creativity is really allowed to flourish and if you spend time on cooking the vegetables properly, you'll get a great taste experience. By the way, I have also previously made a blog post with vegetarian open faced sandwiches, if you feel like digging into even more green open faced sandwich recipes!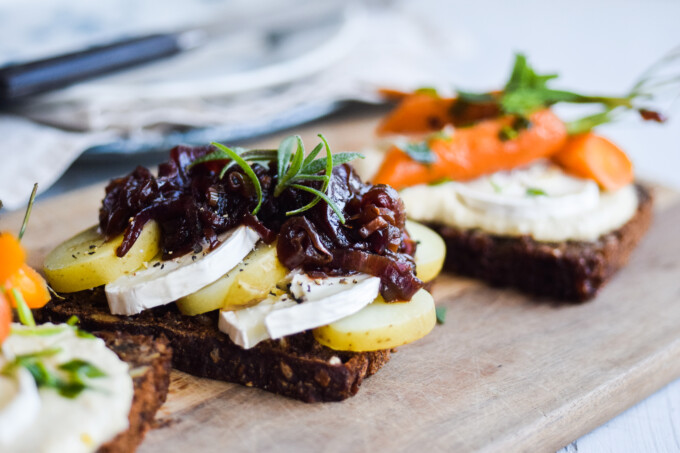 Open faced sandwich with tarragon-baked carrots and one with red onion jam
In this post, I have made two kinds of open faced sandwiches. Both with goat cheese, but while one is accompanied by a red onion jam (which by the way is also great for so many other things), the other is accompanied by some super delicious tarragon and honey baked carrots. The latter also works super well as a standalone side dish for example together with chicken.
In fact, there are SO many delicious green "cold cuts" that can easily be put on top of rye bread and that can fully compete with the classic cold cuts such as spiced sausage, liver pate etc. Personally, I am very keen on developing more recipes like these ones in the nearest future!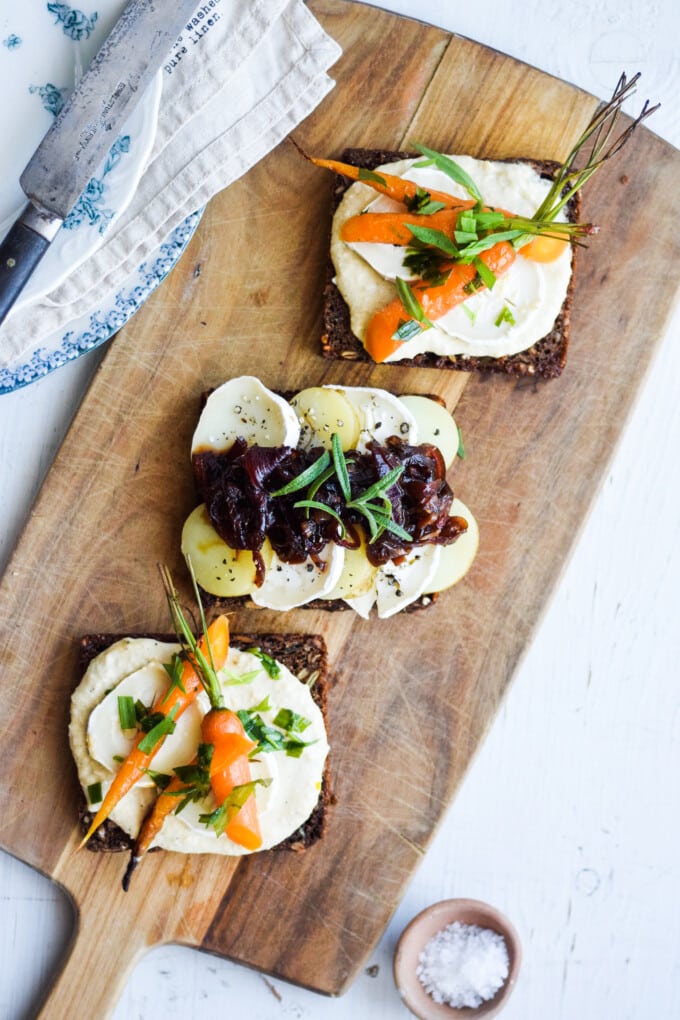 Open faced sandwich – two vegetarian versions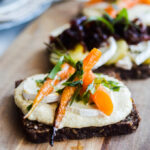 Sandwich with potato, goat cheese and red onion jam
4 red onion
1.5 dl vinegar
2 dl muscovado sugar
Lots of freshly ground pepper
1 tsp salt
4 small/medium boiled potatoes
8 thin slices of goat cheese
2 slices of rye bread
Fresh rosemary for garnish
Sandwich with tarragon baked carrots, goat cheese and hummus
4-6 small carrots
Olive oil
Honey
1 tbsp coarsely chopped fresh tarragon
Salt
2 tbsp hummus
4 slices of goat cheese
2 slices of rye bread
Sandwich with potato, goat cheese and red onion jam
Begin with the red onion jam.

Cut the red onions in slices.

Add them to a saucepan with vinegar, sugar, salt and a few sprinkles of freshly ground pepper.

Bring to boil and then let it boil over low heat until the liquid has evaporated. It takes about 20 minutes. Allow to cool and then pour into a mason jar.

Place slices of potato and goat cheese on two pieces of rye bread.

Place red onion jam on top.

Sprinkle with freshly ground pepper and garnish with fresh rosemary.
Sandwich with tarragon baked carrots, goat cheese and hummus
Place the carrots on a baking tray and drizzle with olive oil.

Also drizzle with a bit of honey and a pinch of salt.

Bake them in the oven at 200 degrees in approx. 15 minutes, until tender.

Sprinkle the baked carrots with coarsely chopped fresh tarragon.

Spread hummus on two pieces of rye bread.

Add slices of goat cheese and place the baked tarragon carrots on top. Both open faced sandwiches are now ready for serving.